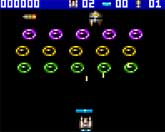 … I have been playing too much of "Alien Scum" on my mobile (SonyEricsson T630).
There is something special about low tech games that makes them addicting. You will not see any fancy 3D graphics or stunning animations. Still, this repetitive game is very addicting.
Alien Scum reminds a lot of Alien Invaders. Kill all aliens on the screen to advance a level. This version adds some power ups but in my opinion, it doesn't match up to the original.
You should be able to get it FREE from the SonyEricsson mobile site.