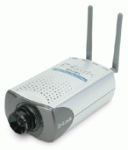 D-Link DCS-2100+ is a WiFi enabled web camera with a built in web server, FTP and mail sending functionality.
This means it can "easily" be connected to an existing wireless network (WLAN) and only needs a near by power outlet to be connected. The built in web server makes it fully functional on its own, not requiring a PC to be on constantly.
The setup is fairly straight forward. Connect the camera with the supplied network cable to a router. Set up the wireless parameters such as IP address, SSID and WEP encryption.
Unplug the network cable, power cycle the camera and it should connect to your WLAN. In theory. In practice you may have some connectivity issues, as always with WiFi.
It wasn't mentioned ANYWHERE but the camera works only with a broadcasted SSID. I figured this out the hard way, only being able to connect after many, many trials of various setups on the camera and my router. Not too happy about this fact because of all the exploit possibilities of WEP but I am hoping that a future firmware release will fix this issue.
The camera has a web interface that will let you modify everything you need. First thing will be to create some user accounts that will be able to view video from the camera but not be able to access the setup.
The FTP functionality lets you upload a snapshot to a web server in arbitrary intervals. If you instead prefer to be emailed with a snapshot as an attachment just enter an SMTP server and email address. The latest firmware supports SMTP authorisation if your SMTP server requires that. It doesn't seem to be possible to both FTP and send email.
When you connect first time to the web camera you will be asked to download 1-2 ActiveX components to be able to view streaming video and audio. This works very well in IE on Windows but any other browser or OS is not supported.
Once connected, you have the choice between UDP, TCP and HTTP connection. UDP results in best quality but may be blocked by corporate firewalls. HTTP is video only but should work even if behind a firewall.
The camera comes with a IP surveillance software that is run from a PC. It supports up to 20 (!) cameras if you are interested in a thorough CCTV solution.
Motion detection is a feature with great potential but I found it too complex to set up and not working very well anyway. In theory, you should be able to receive an email with attachment when motion is detected.
Via the web interface you can adjust standard video settings like video quality, white balance, image size, brightness and etc.
There are many smaller enhancements I'd like to see in future firmware releases. A separate SMTP and FTP functionality. Better motion detection setup. HTTPS support for administrative functions. Cross browser compatible connectivity. Support of non-broadcasted SSID. Leaner user interface.
+
Wireless
No PC required
Sound
Included monitoring software
–
Broadcasted SSID required
Complicated motion detection setup
Supports IE only


Example image from the camera (the page is a custom page made by me).

Update
Comments have been closed, Please use the DLink DCS-2100+ Internet Camera forum for any questions / feedback.