« Roland Garros in the spring | Main | Heavy »
SonyEricsson K750i on Vodafone
June 07, 2005
Keywords:
sonyericsson
k750i
k750
Vodafone
live
branding
k800i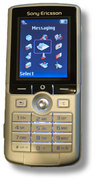 The good news is that the new SonyEricsson 2 mega pixel handset is available on Vodafone UK. The bad news is that it is heavily Vodafone Live! branded and has limited functionality compared to a standard SE handset.
1. Vodafone has disabled MP3 ring tones.
2. The user interface is different from the SE original. Buttons have been reassigned, menu icons are Vodafone versions (uglier) and have different positions.
3. Vodafone logo on bottom of phone, Vodafone button above joystick.
4. This "special" edition handset is in silver (brushed metal) unlike the standard black.
5. Vodafone Live! is accessible from at least 5 different points (buttons and menu options).
Orange has also branded the K750i. While the branding is not as heavy as the Vodafone one, the icons have been replaced with low quality version.
O2 is currently the least branded k750i, unless you get a SIM free version.
Some of these issues can be remedied. To be able to play MP3 tones, MP3s can be altered with the SonyEricsson DRM (digital rights management) packager. The packager will add the digital rights in a quick step (less then 5 seconds/ song). The files will get the dm file extension and can be used on the Vodafone Live! branded K750i as ringtones.
After using the phone for a couple of days I find the features of the phone to outweigh the Vodafone branding so I can still recommend it, especially if it is a "free" upgrade.
The 2 MP camera is very good for a mobile phone. Maximum resolution is 1632x1224 pixels. Auto focus has been added which lets you focus on certain items by pressing down the shutter button half-way. Macro mode actually works and a light has been added to be able to take pictures in dark environments.
The phone records decent mp4 video clips as well. All can be stored a Memory Stick Pro Duo (that's a mouthful) card which nowadays are available up to 2 GB.
Please use the Vodafone branded SonyEricsson K750i forum to post any questions.
Update 05/01/06
Just a note that I have successfully flashed my SonyEricsson k750i with the R1AA008 non-Vodafone firmware using the standard USB cable and the DaVinci Team software.
Total Vodafone debranding. The standard SE icons are much nicer. The middle button functionality is restored. Can use mp3s as ringtones. No "risk" of accidentally connecting to Vodafone Live. No annoying game demos were included. A few fully functional games and apps were included. I even chose a language combination that includes Swedish so that I can use Swedish T9.
Highly recommended!
Related: SonyEricsson k800i on Vodafone
Related entries:
Comments
Post a Comment