It was 1 year birthday of our dog's 6 puppies and a reunion was arranged.
Five of the puppies are with new owners around London and all but one managed to navigate to Richmond Park and our favourite pond.
The picnic started with a bang with 3 golden retrievers running across a couple's picnic.
I suspect that the gentlemen was expecting an apology but none was given by our fearless picnic organiser. Instead the upset gentlemen was notified that 4 more dogs were on the way.
Due to his apparent US accent he was taunted to "sue us when back in the states" upon which he sulkily proclaimed "I am bloody Canadian".
Despite the false start, things took of in a more positive spirit.
The majority of visitors to Richmond Park are dog lovers and everyone was commenting on how gorgeous our pack of 6 Golden Retrievers was.
A few children were almost run over, a few more picnics were terrorised, all white clothes in the vicinity had been jumped up on but the general response was a happy one.
The parting words of everyone was "see you again next year!".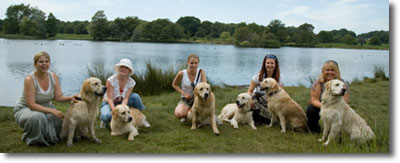 [YouTube video, GoogleVideo]