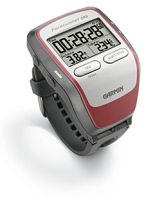 The new Garmin Forerunner 305 is a GPS receiver and heart rate monitor in a single watch. It is a wonderful addition to any activity where you want keep track on distance, pace and heart rate such as running, cycling, triathlon or trekking.
Update August 2008
In a recent firmware update Garmin added the ability to add locations manually.
I find this very helpful when using the watch as simple navigation tool in a foreign city or country.
Say for example that you are travelling to Rome. Now you can enter a few favourite locations (hotel, restaurants, sights) on your Forerunner 305 and then walk or drive around Rome and being confident which direction you should go and how far it is left.
Not to mention always being able to find your way back home (hotel) no matter how lost or drunk you are.
End update
The unit features new design and new features compared to the older Forerunner 301. The Forerunner 305 is smaller, has better GPS reception, has a higher resolution display and better water proofness.
The watch shows time, pace, average pace, distance, heart rate, calories burned, location, course and much more. Choose to display the information on several default screen provided or create your custom screen to show the stats you want.
A few work out modes are built in like intervall training, heart rate zone, minimum pace, distance, time or against a friend's stats for the same course. Due to accuracy issues I find it bit frustrating to use the minimum pace or heart rate modes and instead just do my own work outs.
While the older unit had the mini-USB port on the watch it self covered with a rubber cap, the 305 has 4 copper pads used for charging and data transmission together with a miniature cradle. This makes the unit completly sealed.
Triathlon athletes will especially like the new water resistant design. While the unit may survive a longer swim under water the reception would suffer. The triathlon community is recommending to put the watch in a ziplock bag and keep it under the swimming cap.
In the box you will find the Forerunner 305 watch, a heart rate chest strap, an USB to mini-USB cable, an extension arm band, a tiny cradle and the standard manual, Windows USB drivers and workout software.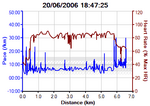 The accompanying workout software (TrainingCenter) let's you summarize various kinds of logged data and to overlay runs with maps. The strength of the software is analysis of captured data.
I was however not pleased with the accompining software and instead prefer SportTracks.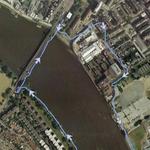 SportTracks is free (at the moment). It has a more intuitive interface, a more powerful integration with Google Maps and a one click integration with Google Earth.
You need to have Microsoft .NET Framework 1.1 installed to use SportsTrack.
The Forerunner 305 can also be used while travelling. Be it to find your way back to the hotel after an ambitious sightseeing tour or to map a jungle excursion (open in Google Earth).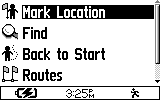 The unit does not have any maps so full fledged navigation is out of the question but you can leave a digital "trail of bread crumbs" while you are trekking and always be able to find your way back.
By using the latest GPS SirfIII chip the watch is able to be smaller and consume less battery.
The older model 301 suffered from bad GPS reception while being worn as it had optimum reception while being placed with display up (not ideal while running).
With Forerunner 305, by placing the GPS antenna on the bottom of the watch optimal GPS reception is instead achieved when the watch is worn normally.
A good place to purchase the Forerunner 305 in the UK would be at Globalpositioningsystems.co.uk (£ 240 inc VAT).