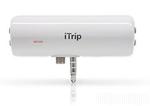 The Griffin Technology iTrip for iPod is a very good gadget if you want to listen to your iPod via a car stereo or a friends sound system.
Older car stereos that take cassettes can use cassette adapters with good results but many newer car stereos only have CD slots and no auxiliary input. The iTrip sends the music on a custom FM radio channel and may be your only option in that case.
All you have to do is to tune in to this channel and you have a wireless connection. There are slight differences between the FM band used in USA, Europe and Japan but the iTrip supports all three formats.
Since the iTrip gets it's power from the iPod (see the little connector next to the micro jack) there is no need for extra batteries. iTrip turns it self on when you start streaming music and turns it self of after 30 second of silence.
The design of the iTrip is very good. It fits like a glove on the iPod and looks like it should have been there by default.
To tune your iTrip to different channels you play short sound files that command iTrip to use a different frequency. The installation CD comes with UK channels from ~88-108MHz in 0.1MHz steps.
The iTrip costs around £30..