« Identity Fraud and Identity Theft in the UK, you next? | Main | A Mini Adventure »
Lost african python in London
September 16, 2006
Keywords:
london
python
missing
People in London often say that the London tube is a bit of a jungle. If the below python makes it there, it will take it to a whole new level.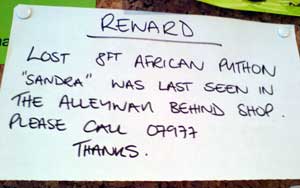 Reward: Lost 8ft African python "Sandra" was last seen in the alleyway behind shop. Please call 07977xxxxxx Thanks.
If you do see a python without an owner do send me an email and I will notify the person who put up the above notice.
I was also about to tell you about current office politics at my office.
Despite being required 110% on a current project I had to accept a 50% working solution in order to prevent other staff QUOTE wanting the same thing UNQUOTE.
But there are no office politics at my office so there is nothing to talk about.
PS For some time ahead I am 50% available for any commercial propositions
Related entries:
Comments
(No comments yet)
Post a Comment