« Is your TV ready for High Definition (HDTV)? | Main | Web &gt2.0 Conference, London, UK »
SkyHD installation: first impressions
May 23, 2006
Keywords:
skyhd
hdtv
1080i
uk
sky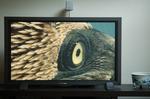 Finally May 22nd arrived and with it the first official installations of one of the first HDTV services in the UK: SkyHD.
Installation
In my case the actual installation was just a matter of unplugging the previous Sky+ box and replacing it with the new SkyHD box - easy peasy.
Currently I have the SkyHD box connected to an older Pioneer Plasma 433 (43"). The TV supports 1080i over component and that is how it is connected at the moment.
A HDMI to DVI cable has been ordered and I am looking forward to comparing the picture quality of HD over component vs. over HDMI.

The SkyHD Box
SkyHD has a 300GB internal hard drive but only 160GB is allocated to the customer, the rest is "reserved" for Sky. Recorded HD content obviously requires more HD space than standard definition (SD) content and there is a risk of running out of HD space quickly. Star Wars III in HD requires around 10% of the SkyHD available space!
SkyHD comes with a new remote but my multi-remote that was programmed for the previous Sky+ box is working fine. This seems to suggest that Sky+ and SkyHD share remote control codes but I have heard reports of SkyHD remote not being able to control a Sky+ box.
The box has internal fans but sitting 6 meters away from it I was not able to hear it over the TV sound.
You can choose to output in 1080i, 720p, 576 or leave it on Automatic where the SkyHD box will switch according to the source.
The Automatic option may seem best but unfortunately the switching between HD and SD channels creates a flicker.
Related entries:
Comments
Post a Comment