« The big three oh | Main | Another scorcher in London »
Sunset over the River Thames
July 13, 2005
Keywords:
river
thames
sunset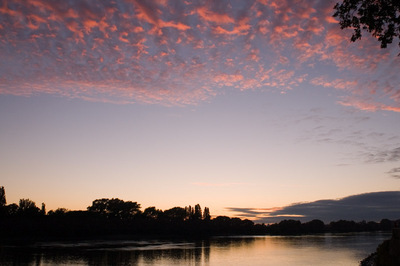 Nikon D70, Nikkor 20mm 2.8D, f/8, 1/60s

On my way back from a recent run I couldn't help noticing how wonderful the evening sky was over the River Thames.
So I prolonged the late jog by rushing home, grabbing my camera and snapping away.
The camera was only hand held which resulted in a little blurred shot but nothing noticeable at web resolution only.
Comments
Shane Meakins Says:
November 21, 2005 11:04 PM

What a beautiful sunset!!

Where was it taken? On which side of the river thames.Just out of interest as photography is my passion.

Absolutely stunning!!

It would be lovely to hear from you.

Kind regards,

Miss Shane Meakins

David says:

It was taken from Bishop's Park, looking west.

The sunsets are getting even better now when it is chilly. All pink, yellow and purple across large parts of the evening sky.

Floris Vermeir Says:
June 11, 2006 06:17 PM

Its beautiful, people often forget that there is a sky. It looks like little islands, being lit by the sun.
Post a Comment