« HMV UK return policy - beware | Main | Early Christmas greetings »
Spun
December 10, 2003
Keywords:
spun
movie
methamphetamine
speed
stormare
Leguizamo
Rourke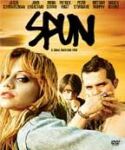 Fasten your seat belt because this is a fast paced movie with quick dialogs and even quicker drug habits.
The movie follows the deranged and drug dependant lives of a group of people. Being either the producers or the consumers, they all have one thing in common; methamphetamine (speed). The high-light is a 3 days long drug odyssey for the main character Ross (Jason Schwartzman) where time seizes to exist.
The movie was directed by the Swede Jonas Akerlund and you will find several Swedish oddities in the movie if you look for them. An old brown Volvo 240 plays a central role, one song by Vikingarna (a Swedish folk band) is on the soundtrack and I suspect that the two blond toy-boys lounging with Cook's gay patron are Swedes as well.
One might say that Mickey Rourke (The cook) puts on a great performance but I have my suspicions that he was just being him self. In my opinion Spider (John Leguizamo), Nikki (Brittany Murphy) and Ross put on the best performances. They act out their emotions very well.
The movie tries hard making an impact on the viewer but in the end it just comes across as offensive and bit shallow.
Related entries:
Trackback Pings

TrackBack URL for this entry:
http://blog.davidkaspar.com/cgi-bin/fsdg39fmcnswgv.cgi/92
Comments
Ice_Spun_Psycho Says:
December 14, 2004 07:28 PM

This is THE best movie of all time. I fell in love with it from the moment I saw it, however it is quite hard to find it in department stores for sale...ROCK ON
Post a Comment