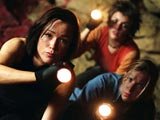 The less you know about this movie, the more you will enjoy it so you may want to stop reading now and head to that late showing of The Descent. If not then read on, I'll avoid any major spoilers.
The Descent is another British horror/thriller production that will keep you on the edge of your (cinema) seat. You could easily miss this movie due to very little marketing but it is a movie that you will not forget easily.
I associate British productions with cheaper budget than Hollywood productions but much more realism and believable plots. This applies to other well done movies like 28 days later and Lock, Stock and Two Smoking Barrels.
The Descent is a claustrophobic horror about a group of all female and adventurous characters that go cave exploring. You are quickly thrown into an adventure of narrow caverns, hard hats scrapping against rock and dust covering our heroines. Add to this the fact that the girls are not alone in the caves.
The gore factor is high in The Descent. You will see blood squirting from deep cuts, broken bones sticking out from legs and people getting torn apart. It is all very realistic however and the sensation drags you uncomfortably into the movie.
A surprising twist is presented at the end of the movie and you are free to elaborate on it the comments. I sure didn't understand it even if I have my theories (Jacob's Ladder and Mulholland Dr. anyone?).