« Love Actually (2003) | Main | Netbeans IDE, pros and cons »
Discover Dogs in London
November 23, 2003
Keywords:
dog
earls
court
discover
dog
exhibition
london
golden
retriever
bulldog
mastif
bernard
german
terrier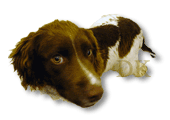 It has become an annual tradition to go to Earl's Court Exhibition Centre (2) to the Discover Dogs show.
The area is filled with every single dog breed imaginable and it's all well organised so that you can quickly get your head around various dog groups and their characteristics.
Carla is crazy about dogs and I suspect that it might have rubbed of on me because I enjoy it such as much as the other dog geek at the show (mental note, a review about the funniest movie made: Best in Show).
Each breed has their own stall where the proud owner has anything between one and six dogs to show up. The stall is covered with leaflets of information and photos. Ask any question about the breed and be ready for an eloquent and long answer.
In the middle of all the stalls, there are two exhibition areas where several activities are performed through out the day. There is the agility competition, the basic puppy training and the important instructions on what to do if bothered or even attacked by a dog.
Don't be shy or afraid to bring your kids, every one else does and there is a lot, a lot of patting going on.
Related entries:
Trackback Pings

TrackBack URL for this entry:
http://blog.davidkaspar.com/cgi-bin/fsdg39fmcnswgv.cgi/83
Comments
james Says:
July 15, 2006 07:29 PM

We are an English Bulldog Puppy Breeder Located near Buffalo New York with English Bulldog Puppies for sale.

All our Bulldogs are home raised for show or pet. We are a breeder of happy, A healthy bulldog puppies for you to love and all our bulldogs come with a health guarantee and contracts.

Please take a few minutes to look around our Bulldog kennel and find that special Bulldog puppy you've been searching for!

Our Bulldogs have Top American and imported pedigrees. Your Bulldog puppy is home raised in our family room for show or pet. Happy, healthy Bully Babies for you to love. Our bloodlines include the top producing and winning dogs in bulldogs! We are the Bulldog Puppy breeder that cares about the quality of our puppies.

Take a look at some of our recent Bulldog Puppy pictures!

Sorry No Shipping-come see us and Niagara Falls and know your baby will travel safe

David says:

Eh, leave an URL for me to block next time you are spamming.

I hope that all of your English Bulldog Puppies bite you in your back side... at the same time.
Post a Comment