« Animatrix | Main | Couple of clicks on the old odometer »
Housing sorted, Scotland here we come
August 21, 2003
Keywords: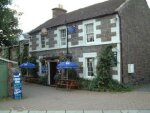 Phew... I escaped from Carla's wrath, but it was close.
We are planning to visit Edinburgh and surroundings, Perth among other cities.
This is the last weekend of the Fringe Festival so that will be fun checking out. We also have a (dubious) white water rafting booked.
Turns out that there is a Harley Davidson get-together in Perth and thus all possible housing have been booked up for weeks. I know I should have booked months ago but it just ain't me. I almost gave Carla (another) chance to say I told you so.
The Crees Inn looks very charming and if you are in the neighbourhood, do pop over for an ale or six.
Anyways, back 26th of August...
Trackback Pings

TrackBack URL for this entry:
http://blog.davidkaspar.com/cgi-bin/fsdg39fmcnswgv.cgi/4
Comments
(No comments yet)
Post a Comment