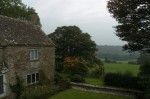 Our good friend from This Ordinary Life was turning 30 the other day.
To celebrate this sad joyous event he and his wife had organised a wonderful weekend away in the Cotswald area for 14 people.
They found a charming cottage in Far Oakridge which together with the adjacent stable cottage comfortably fitted 14 guests.
From the outside the cottage looks very charming and authentic with it's thick stone walls and low ceiling. On the inside however you'll find all the modern conveniences you'll want for a comfortable weekend away.
Fully equipped kitchen, power showers, central heating, multiple fire places, BBQ, games, books, flat screen TVs, DVD players, hifi and much, much more. Even a large trampoline in the garden which should have a warning sign "not to be used while intoxicated".
Some of the available activities in the area are horse back riding, hiking, clay pigeon shooting and village exploring. Naturally me and the boys chose the shooting.
While the other guests were mainly couples, our little family turned up in full force: mom, dad, baby boy and two hairy beasts.
To our relief everyone had a great time socialising with the little one and getting the occasional lick from the hairy ones.
Once the baby boy was sleeping soundly, shortly after 8 pm, there was time for celebration dinner and drinking games until 3 am.
The next day the others had the pleasure of sleeping in until lunch time but we had to be up by 6 am to again start pleasing the youngling.
All in all a fabulous weekend away despite a few (canine) accidents in the back of the car.
Every time I get away from London I try to cherish every ounce of fresh air and every bit of peace and quite.
The English country side truly is a feast for the eyes.