The beautiful game; even more beautiful when your team is winning in front of nearly 60,000 spectators!
A friendly match was played between Brazil and Argentina at the Emirates Stadium in London but anybody who knows those two teams also knows that they are not friends.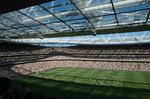 It was a pleasure to visit the new Emirates Stadium.
All seats in the stadium seemed to be padded, there was plenty of leg room and all spectators were under cover.
There seemed to be many food and beverage outlets but still it took over 20 minutes to get a freaking pint at half time.
Some of the more noteworthy players in the Brazilian line-up were Robinho, Kaka and Baptista. Noteworthy Argentinian players were Carlos Tevez and Javier Mascherano.
It was the Brazilians' second game with their new coach Dunga; first was against Norway.
There may have been some reservation back when Dunga was selected as the new coach but these two recent internationals have shown that he can lead the world famous players very competently.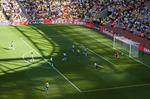 A very early goal by Elano created a lovely atmosphere at the stadium; for the Brazilian supporters that is.
Elano then followed up with a second goal in the 67th minute.
In the very few last minutes, the 89nth minute to be precise, Kaka benefited from a Messi mistake and charged ahead with the ball.
Kaka started way down on his own half but rushed ahead and managed to pass a fair share of Argentinian players before pummeling the ball into the Argentinian goal. Cue mad celebrations.
Brazilian colors hugely outnumbered the Argentinian colors in the audience but a large number of the Brazilian supporters were non-Brazilians.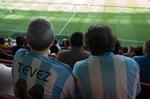 With a bit of bad luck, our group ended up with a few Argentinian supporters just in front of us.
One of the supporters was a (posh) older lady and she wasn't too impressed with my wife's passionate cheering. Several of our good friends are Argentinian so I won't go into details but let's just say that mas que um viado was shouted many times.
All in all a fantastic game and Arsenal supporters have a great season ahead at the Emirates Stadium!