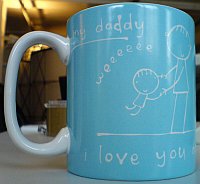 Yesterday was the best Father's Day ever.
Laying in bed and reading an I love you daddy card brought tears to my eyes. Once again it made me realise that I am a father and all the joy and responsibilities that come with it.
As always I was showered with presents but none delivered the message as strongly as that I love you daddy card.
A picknick was arranged with a few couples from our antenatal class. Everyone was comparing battle stories from the labour room and the progress of their babies.
Baby acne, organic nappies, colic, sleeping patterns and all kinds of wondrous details were touched upon. I think everyone was relived to find out that they were not the only people in the world with their specific issues.
So you see, the big person on the cup on the left is me and the little fellow going Weeeeeeeeeeeee is my son.