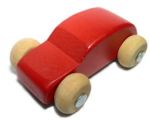 My following observations are only based on a 5 day period during which I was driving around in Torino and Milano in Italy. It may not reflect the average Italian driving conditions but I have been scarred for life nevertheless.
Italian drivers have no mercy. If you are a tourist driving around an unfamiliar city you are bound to make a few mistakes. You will then be in need of switching lanes late or going a bit slower in certain parts.
Trying to change lanes is difficult as you are like a sitting duck and the other drivers can smell the fear in the air. They will speed up to minimize your chances of correcting your mistake.
You may be used to leaving a "safe distance" between your car and the car in front. If this distance is any bigger than a small Fiat, then there will be small Fiats cutting in in front of you to advance in the traffic.
A red traffic light only seems to mean "there may be traffic from other direction, be careful".
Having been driving in Brazil a few times, I am used to cars ignoring a red light but only on lonely streets and during night… but never during the day and in heavy traffic like in Torino.
Pedestrians in Italy have a raw deal. While waiting at a zebra crossing many cars pass before some actually stop to let pedestrians cross.
Combined with the above delights of cars going against red lights it can be tricky to safely cross a street.
One positive sign was that all cars slowed down considerably during a snow storm. This may have been due to common sense or just pure self preservation.
All this may persuade you into paying extra for an excess fee waiver; just like it persuaded me. It turned out to be the most expensive one I have ever come across at €19 per day.
No wonder considering the large amount of cars driving around with dents and scratches. Minor accidents must be quite common.
Hertz was well stocked with a portable SatNav unit and it helped us immensely. We were able to drive around Torino like a local and to navigate to Milan without any hassle. Highly recommended!