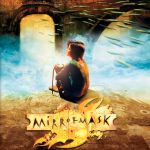 Currently the only chance to see Mirrormask in the UK was to catch it at the 49th London Film Festival. So we did just that.
Neil Gaiman was part of the team creating the movie and this of course is why me and many other Sandman fans were excited about watching it. Sandman is a cult comic book with very original illustrations and stories.
The movie starts of with some very colourful and loud scenes from a circus performance were we are introduced to the main characters.
There is Helena (Stephanie Leonidas) who is a child but very mature for her age and unhappy with the nomadic lifestyle of her family.
Her father, played by Rob Brydon, seems to be in charge of the circus as well as of the family but only until there is a crisis. He then descends into a sad state and is not even able to comfort his own child.
Helena's mother Joanne (Gina McKee) falls ill early in the movie. When she has to undergo a risky brain surgery, Helena experiences a very vivid and strange dream.
In this dream Helena's meets Valentine (Jason Barry) who will become her guide and hero. Had Helena been a bit older Valentine might even have been a boyfriend.
Valentine is not your ordinary knight in shining armour. In addition to bravery and the care taking of Helena, he also displays common human features like fear, greed and jealousy.
Neil Gaiman's influence is constantly obvious in the many illustrations, masks and surreal plots throughout the movie – surely a treat to any Sandman fan. Unfortunately this was not enough for me to cover what I thought was mediocre acting. I suspect the fact that the actors had to act in front of a blue screen and some behind masks for long periods is partly to blame.
A nice touch to the performance was the fact that some of the main characters from the movie were on stage before the movie to introduce them selves personally. There was Stephanie, Jason and Rob. At that point however we were not yet familiar with the characters so it wasn't such a treat as it would have been after the movie.
A Q and A session was promised for after the performance. We missed it however because after sitting in first row and being bombarded with CG (computer generated) graphics and loud sound track we escaped quickly back into the real world.
Oh yeah, the short story by John Williams called Hibernation shown before the main performance was spectacular!