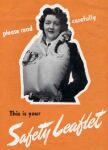 Once again Carla's "I told you so" is ringing in my ears. I was planning a trip to Sweden and was sucked in by the £2.99 advertised price on Ryanair.com web site. I was travelling alone and figured I would be able to handle the early departure and other inconveniences.
In the end the trip turned out to be a lot more expensive than the lucrative £2.99 and I would like you to consider the following before being lured by the prices of such airlines as easyJet, RyanAir and Buzz.
Update 30/01/04
"A disabled man who was forced to pay to use a wheelchair at Stansted Airport has won his case against Ryanair." (BBC News)
Good, now if only something could be done about the belittling staff.

! The announced price is very low because the companies do not show the additional fees until you are in the middle of the booking. They levy all kinds of fees including extra insurance due to 9/11 and card fees – paying by card is often the only option by the way.
! The flights are at odd hours; very early or very late. At many destinations the public service is not in service and you have to resort to taxi fares.
! To make it worse, the departure airports are often remote. Standstedt in the London case, is 45 minutes away by express train. The destination airport are likewise remote and not at all the advertised ones. It says Stockholm in big letters but Vasteras in small letters underneath (50 miles distance). It says Paris in big letters but Beauvais in smaller letters (35 miles distance). Same story for most European destinations.
! Check-in time is up to 1.5 hours before departure time; arrive less than 40 minutes before stated departure time and you will not be allowed to check-in.
! Recently Ryan air lowered the allowed check-in luggage weight to 15kg (33lb). Excess fee per kilogram is £5 and I ended up paying for five of those suckers.
! Pre-departure and on-board service is scarce. Restrict communication with the staff to a minimum.
! There is no reserved seating so you and your partner can end up on separate seats.
If you find an announced one-way price of £1 then go for it but if the one-way price is closer to £50 check the regular airlines first. Deckchair is one good resource.
Now repeat after me. Hear me now and hear me well: never again.