« One mighty year | Main | Globalsat TR-102: personal GPS/GSM tracker and locator »
Bennetts motorcycle and scooter insurance renewal
May 03, 2007
Keywords:
Bennetts
motorcycle
scooter
insurance
renewal
moped
uk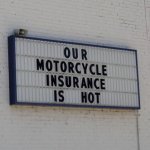 It is a real shame but it seems as if you have watch closely all the companies you are paying for a service.
Forget to watch them and "mistakes" will be made which will always result in you paying them more.
The latest company to act questionably is the motorcycle and scooter insurance broker Bennetts.
Their business model is to get a quote from several different insurance providers and let you select the best value one.
My first year with Bennetts scooter insurance costed me £260 (third party, fire and theft). The second year costed me £250.
Towards the end of my second year I realised that having 1 year of no claims discount should have resulted in a better quote than I had been given.
I inquired Bennetts about this and was assured that my third year with them would be "considerably cheaper".
The renewal quote arrived a few days later in the post and had the figure of £176. This sounded like a really good value.
The letter further stated that I did not have to do anything because the policy would be automatically renewed at the end of the term. At that point my credit card would be charged the quoted fee of £178.
One day before the renewal a Bennetts sales agent called me to inform me that my policy was due for renewal and that the best quote she was able to find was £220.
I was a bit puzzled by this and informed her that a lower quote was already sitting at the kitchen table back home and I did not wish for her to do anything at this point. I would be calling them later that day with the previous reference number in hand.
When I called Bennetts later that evening I was told that the higher fee I had been quoted earlier that day was currently in my account and had I not have called, I would have been debited this figure.
At this point I was about to explode with how unjust this was when the sales agent quickly told me that he has yet another quote and that it is £150. After going through the terms and conditions of this policy it turned out that it was the best one so far.
The Bennetts sales agent was not able to explain what had happened but insisted that if I "finalise it with him there and then" he could guarantee this figure.
One has to ask what motivation Bennetts has to actually give you the lowest quote they find. If they operate on a percentage based commission it would be in their interest to sell a more expensive cover.
Oh, one more thing.
Bennetts adds an optional fixed "legal protection" fee to all policies. You can request to remove this £25 fee to further reduce your annual insurance cost if you do not require it.
Cheap scooter insurance alternatives:
Lexham Bike insurance
Carole Nash
Bikesure

Photo credit: Signalstation
Related entries:
Comments
(No comments yet)
Post a Comment