« Flickr to fuel your photography passion | Main | Naturally Seven human beatbox on a Parisian Metro »
TDAI: One large sofa pillow
March 08, 2007
Keywords:
dog
destroy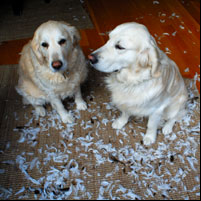 One large sofa pillow bit the dust the other day.
Once again a subject was chosen due to the spectacular mess it leaves when destroyed.
Dogs unaware of the destruction around them. Well, Jack did seem a bit proud for the rest of that evening.
PS This photo was taken after the cleaning up of the mess

Related entries:
Comments
sandeep Says:
March 10, 2007 06:44 AM

so are they your pet dogs the two of them?

David says:

Yes indeed, they are!
Post a Comment