« TDAI: Siemens Gigaset SL555 | Main | Huston we had a problem »
Heavenly light in Scotland
August 01, 2006
Keywords:
photography
edinburgh
scotland
sunlight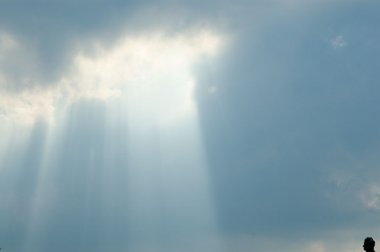 I often find it difficult catching an optical phenomenon on film (or on digital memory more recently).
Just like me, you probably pull out your camera when you see that gorgeous rainbow, sunset, aurora borealis or reflection on water. More often than not it comes out nothing like it was in real life.
The other day I saw some wonderful sunlight beaming down through a narrow opening in the clouds. To my surprise the captured version creates same amazement as the real thing did.
The tiny head in the bottom right corner is the top of a statue.
As always there are plenty more photos from Scotland in the Photo Gallery.

Related entries:
Comments
/|\ Says:
August 2, 2006 02:17 PM

Amazing picture!

Ah, this phenomenon is called Jaccob's Ladder. I saw one in Buzios once, and the light was hitting on a mountain at the other side of the Buzios Bay. Amazing.
Post a Comment