« Google Maps and Google Local finally local to UK | Main | Stop the press, 4-6 babies are on the way »
Windows XP SP2 and Event ID 4226
April 29, 2005
Keywords:
tcpip
connection
limit
Windows
XP
SP2
Event
ID
4226
patch
lvlord
There is a way to tell whether your daily networking activities are being affected by the patch. Each time your computer tries to establish more than 10 half-open connection, a system event will be logged in Windows. It looks something like this: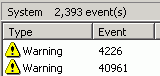 EventID 4226: TCP/IP has reached the security limit imposed on the number of concurrent TCP connect attempts
Access the event viewer by Start / Control Panel / Administrative Tools / Event Viewer / System. Sort by Event and scroll down to 4226. If you only have a few occurrences, I would not worry about it but if you see many daily occurrences it's time to look into why they are appearing.
There are two scenarios:
1. You computer may be infected with a virus/worm that is trying to spread
2. You are a networking power users and your applications are being stalled by the XP SP2
If you have anti virus software running and you scan your computer regularl ywith anti-spyware software like AdAware then case 1 is not likely.
Related entries:
Comments
Post a Comment