« Best of Young British Novelists 2003 - Granta | Main | Vama (the Indian room) - London »
She Went to the Field: Women Soldiers of the Civil War
September 20, 2003
Keywords:
bonnie
tsui
book
civil
war
women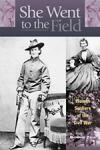 Written by an old friend Bonnie Tsui, this is a book about the unrecognised envolvement of female soldiers during the American Civil War.
I have always enjoyed her colorful writing, be it emails or recent articles in various magazines. This book is then an extra long treat. The book has grounds in her academic work but is aimed at general audience due to her lively way of writing.
You will be presented with in depth biographies as well as daily lives of soldiers during the Civil War.
Some of the featured women were in male disguise; Sarah Rosetta Wakeman (a.k.a. Private Lyons Wakeman, Union) and Sarah Emma Edmonds (a.k.a Private Frank Thompson, Union) being two. Others were participating in more traditional ways, eg like nurses or spies.
Having finished only the very first pages, bit too early for an in depth review but it will follow.
Related entries:
Trackback Pings

TrackBack URL for this entry:
http://blog.davidkaspar.com/cgi-bin/fsdg39fmcnswgv.cgi/34
Comments
(No comments yet)
Post a Comment