« November 2003 | Main | January 2004 »
December 31, 2003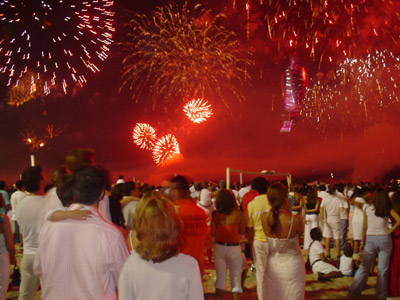 Copacobana, Rio De Janeiro, Brasil, 1st of January 2003, 00:02
Well, the year 2003 is making sure to end with a bang.
It has been a scorching hot day with temperatures over 35 degrees C and flip-flops melting on the hot beach sand. The waves were over 10 feet high and now there is a tropical thunder storm.
This last day of 2003 was also the day I asked Carla's dad for Carla's hand and his answer was a delightful yes. Now there is only one more person that has to agree.
December 29, 2003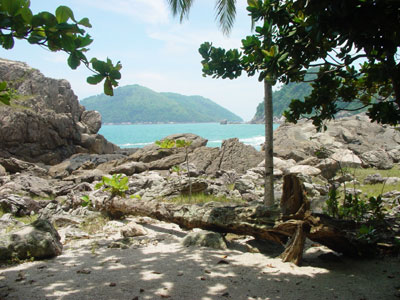 The two islands outside of Barra du una can only be reached by boat. This is why its beaches are almost deserted.
The islands are minuscule and you can easily walk around each one in half an hour. During the walk you'll find some nice views of the ocean and the mainland.
December 28, 2003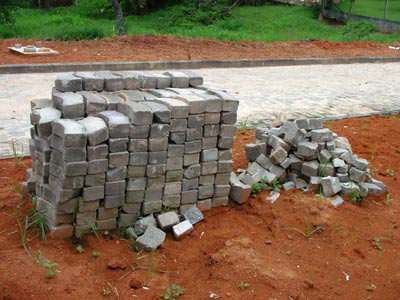 Brazil is a country that is relatively young; 500 odd years old. Despite its youth it is quickly catching up with some of the most developed countries in the world.
The people have a zest for life and work hard. The optimism for a brighter future was further fuelled with the recent election of peoples favourite Lula as their new president.
Things can only get better.
December 26, 2003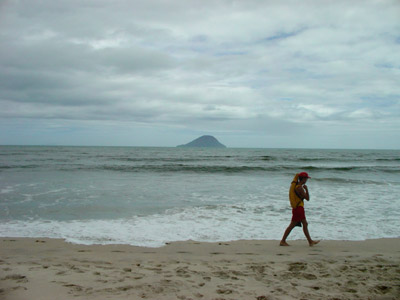 Tristesa não tem fin,
felizidade sim. -Jobim
Just a cloudy day at the beach, life could be worse.
December 23, 2003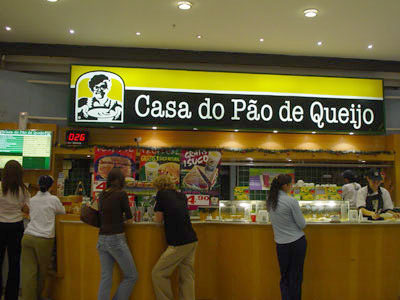 Casa do Pao de Queijo is a welcome break for any serious shopper or just a hungry soul.
Here you will get a fix for your cheese bread craving and they also serve decent coffee and fruit juices.
Would be great to see one of these back in London; please someone with money to invest consider it!
December 22, 2003
I have always liked water and water sports, ever since my dad insisted on me learning to swim at the age of 4.
Whenever I feel stressed or depressed the one thing that helps the most is a couple of laps in a swimming pool.
Recently I read that Cancers are affectionate to water and it made sense.
December 20, 2003
So this is it. Our bags are packed, the doors are locked and we have just arrived to the airport. It is time for our annual trip to see Carla's family in Brasil.
Via Carla's sources we have been told that the plane is even more overbooked than usually so here we are, 6 hours before departure time. It's actually quite refreshing; I cannot remember last time I had this much time to read a book. In addition, the lounge at T4 is really cosy which helps. After the last couple of stress full (ballistic is a more appropriate word) weeks at work this spare time is welcomed.
Another 4 hours of waiting, 12 hours of transcontinental flight and we'll be in Sao Paulo, Brasil. I always long for that first breath of humid and warm air at arrival. It is as if whole of Brasil was saying welcome to its visitors.
Time spent in the plane on often feels like time spent in the Twilight Zone. There are very few signs that give away the fact that you are speeding ahead at 1,000mph at an altitude of 30,000 feet. You sleep, watch movies, read and before you know it you are on the other side of the world, South America this time.
The itinerary will be the traditional BBQ, swimming pool lounging and meeting up with friends we have not seen for a year or two. Carla always has a million things to do so it will be up to me to carry the burden of lounging; a burden I carry quite well.
If I am lucky I will manage persuading Carla to one or more smaller excursion to the surroundings of Sao Paulo. For her I bet it is just a hassle but I love exploring foreign countries.
One thing I do not look forward to is to have to speak and follow conversations in Portuguese again. While a do manage shorter conversations about weather and food, longer conversations about the meaning of life and other burning issues give me a head ache in the long run. It is very frustrating not being able to express one self as the 28 year old I am. Instead, most arguments come across as a 6 year old's.
The flight is BA0247 in case you find any online real time tracker, I didn't.
December 19, 2003
... you have been warned :-)
December 18, 2003
There has been a multitude of sequels and prequels during the last two years and in my opinion most of them have failed (no names). While the first movies were entertaining and fun to watch, the sequels were often a repetition or rehash of the first movie and sometimes just relied on a bigger budget and more action scenes (no names).
LOTR triology has been different. It is based on a fantastic triology which evolves very naturally. The director (Peter Jack) has been true to the story and the third and last episode (Return of the King) delivers 100%.
One thing that was bugging me while reading the third part was the constant jumping between the various parties and adventures; just when it was getting interesting on one side of Middle Earth, the story would jump to another part to start building up yet another tension.
In the movie however, this created a dramatic effect. Every now and then I looked around at the rest of the audience and there were many dropped jaws; that's how gripping the movie was.
The scenery in the movie was stunning, probably the best scenery in any movie so far. Changing between green hills, wast prairies, snow covered mountain tops and not least volcanic ground.
December 17, 2003
Observation:
Our car was serviced the other week and most of the costs were for parts. I paid by credit card and thus postponed the actual debiting of my account until the end of the month. I was also rewarded with a few reward points that I eventually will be able to trade in for trips, hotel stays or car hire.
The owner of the car shop was a very friendly gentleman and we ended up chatting for a good half hour about life and things. He mentioned that he is paying by credit card for most parts that he orders for his clients. He is using the same credit card company as me and recently he was on a trip to Paris for two, paid by reward points.
Now, what if the dealer that he is ordering parts from is using a credit card as well for their rather large amount of purchases. This would mean that possibly the same credit card company is able to charge a fee 3-4 times for the same product; while it is traveling from a producer, via various middle hands to the final consumer (me).
It also means that possibly 3 individuals/companies have earned reward points on behalf of my purchase. No doubt something that I as the final consumer will be burdened with in the form of higher annual fees.
So, does this make me a player at the top of the food chain? Am I positioned at the top as I pick and choose what to consume by spending money on it?
I think not. Instead I suspect I am at the bottom of the money food chain. I, like billions others, are like small plankton feeding some slightly larger predators above us. At the top are a few global predators and I bet that American Express is one of them.
December 13, 2003
...from Copenhagen, Denmark.
Its's that time of year again when we move our bodies towards North to enjoy yule spirit with my parents.
The sun setting at 3.30 pm and the freezing temperature brings out the best of Christmas spirit. So does the Scandinavian Christmas food, plentyfull and rich.
Having relatives in various parts of the world has the benefit of multiple Christmas eves and even better, multiple presents openings.
Tonight, Christmas celebration with my parents in Sweden; next week the same with Carla's family in Brasil. Just a temperature difference of 40 degrees.
Whereever you are, take care and be well,
David
December 10, 2003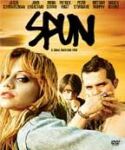 Fasten your seat belt because this is a fast paced movie with quick dialogs and even quicker drug habits.
The movie follows the deranged and drug dependant lives of a group of people. Being either the producers or the consumers, they all have one thing in common; methamphetamine (speed). The high-light is a 3 days long drug odyssey for the main character Ross (Jason Schwartzman) where time seizes to exist.
The movie was directed by the Swede Jonas Akerlund and you will find several Swedish oddities in the movie if you look for them. An old brown Volvo 240 plays a central role, one song by Vikingarna (a Swedish folk band) is on the soundtrack and I suspect that the two blond toy-boys lounging with Cook's gay patron are Swedes as well.
One might say that Mickey Rourke (The cook) puts on a great performance but I have my suspicions that he was just being him self. In my opinion Spider (John Leguizamo), Nikki (Brittany Murphy) and Ross put on the best performances. They act out their emotions very well.
The movie tries hard making an impact on the viewer but in the end it just comes across as offensive and bit shallow.
December 09, 2003
You will probably be spending some amount of money on CDs, DVDs and console games this Christmas so please think twice before purchasing at HMV. Their return policy is not what you may be used to.
Basically, HMV offers no refunds or store credit; only exchanges are allowed and this only if the item is in "perfect condition and original packaging".
The consequence is that if you purchase something wrong or get an unwated present the only option you have is to take it back to HMV and pick something else with "similar value". If you don't, or not to the full value of the previously purchased item, the money is lost. If you cannot decide on something to replace the item with (with the same value again) within 21 days, the money is lost... and, most annoying, make sure to carry the item with you at all times in case you happen to walk into an HMV that day and happen to find something you like.
This strict policy is printed on the back of the receipt but if you do have a read, it is already too late because the purchase has been made.
After the bad luck with the manager in the store I phoned up HMV head quarters (0207 467 1109) to confirm this strict policy. Yes, HMV changed their policy June 2003 due to "hard market conditions the passed year" was the answer.
I am not quite sure what it means but if it means that HMV has been affected by the recent recession in world economy let me just state that I too have been affected.
Apparantly it is up to the managers discretion to offer gift vouchers. I recall that when I mentioned this offer to the manager it was refused. I guess I was not representable enough or that the manager was having a bad day. Too bad that her bad day reflects this badly on HMV and will affect where I (and anybody I managed to inform) makes future purchases.
Update 15/12/03
I was lucky enough to sell on the unwanted purchase to a colleague. If similar has happened to you, you can help by linking to this story (http://www.davidkaspar.com/archives/2003/12/hmv_uk_return_policy_beware.php) on your website to make more people aware and to try to send a message to HMV....
Update 05/03/08
A reader has pointed out that the HMV return policy has changed. I have in fact not been shopping in HMV for the last 4 years so I cannot confirm this.
Best thing you can do is to ask a manager in the store about the return policy for "sealed items with original receipt" before you buy a present.
December 08, 2003
It had to be done; most of Sunday was spent on Christmas shopping.
I limited my "attack" to Oxford St only, especially the department store Selfridges since everything is under one roof. The area was heaving with people but I was doing good progress despite that. Around 1 present every 30 20 minutes I reckon.
This was until Carla joined up with me and through that pace out of the window. Immediately the focus was on window shopping and touching-but-not-buying. I am not so much into skirts and blouses but I was surprised that I enjoyed browsing tall leather boots and handbags.
Also I learned that orange is the new grey. Funny, it feels like yesterday when grey was the new black or was it black that was the new green? What'eva.
Highlight of the afternoon was Fortnum & Mason, where I was once again remained that this is the real McCoy in department stores. You can feel the some 300 years of history while walking around the store and you realise that Harrods is just a copy in comparison.
There was an exhibition of old Chinese items in the Dragon Room. You could pick up a Ming dynasty china (a larger than life stucco head) for a mere £2,750. Top of the line were the Lung-puos (dragon robes), with one specific and beautifully colorful summer chao-fu (circa 1850). Now that's what I call a Christmas present; but it will set you back £19,210.
Pounding head ache in the evening was my reward but nothing that a few pills could not cure. Even managed to dooze of to Breakfast at Tiffany's from the Carla's newly purchased DVD box set with Audrey Hepburn.
December 06, 2003

My ears are very clean and my socks have been rocked off. I have been blasted with the ear splitting rock music of The Darkness.
The band has quickly become popular; most notably due to their presence at the MTV Europe awards where they received the MTV2 UK award.
Their music style is a fast paced flamboyant rock and the show is spectacular. Full of lights, smoke, fire, rock jumps in catsuits and all accompanied with the high-pitched vocals of Justin Hawkins.
Several crowd pleaser were performed like Growing on me, Get your hands of my woman and I Believe In A Thing Called Love. The show ended with the not yet released Christmas Time (Don't Let The Bells End)' where a dozen of children joined the band on stage. The soft voices of the children being drowned by electric guitar and drums was hilarious.



If you missed yesterdays concert at the Brixton Acadamy you will have plenty more chances because the band is doing an UK tour at the moment. Recharge your pacemakers however, because the show is real shock to the system.
"The Darkness. Brixton Academy. December 2003. I was there" (photos)
December 05, 2003

The idea is brilliant; tap in to your users upload capacity to distribute your product across the Internet more efficiently.
If you have a killer product that your customers are downloading, the distribution (bandwidth) costs will increase proportionally with the amount of customers. This may be ok if the product is commercial and you can transfer the distribution costs to the cost of the product.
If on the other hand it is a free-ware product, lets say an open source application, you may find it hard to finance the popularity of the project.
As mentioned above, Bittorrent uses the (free) upload capacity of your users to distribute the product. In effect, the users that have downloaded parts of the product will start sending those parts to other users and the load on your server will decrease.
How well does the network perform?
Bittorrent routinely supports about 1000 downloaders of files around a gigabyte in size. After current tracker scaling work, the next scaling bottleneck is expected to be in the hundreds of thousands of simultaneous downloaders. - (Bittorrent FAQ)
One characteristic of the Bittorrent network is that popular files that are being downloaded by many users are easy to get and with a high transfer rate (in contrast to other P2P networks). Older files that are not being downloaded by other users are not hard to get.
To get started, download a client that supports the Bittorrent protocol. I have tried various clients and have two favorites. As a lightweight client, I prefer TheSHAD0W's EXPERIMENTAL BITTORRENT CLIENT.
I have had better results with the more feature packed Shareaza. It supports all of the following networks: Gnutella 1and 2, eDonkey and Bittorrent. The original client can be found here: Bittorrent software.
Any resource that can be downloaded will have a small file called a torrent that holds crucial information about the resource. Among other things it will tell you the name and hash of the resource making it very hard to fake resources and ensuring correct downloads. The torrent will also tell you the tracker for this resource.
Trackers serve as a central point for sharing information about the various users downloading the resource and what parts each user has downloaded. This means a file is never transferred via the tracker, only information about transfers is. If the tracker is down or is not available for some other reason, you will not be able to download the resource.
etree.org is a community for sharing the live concert recordings of trade friendly artists. Other large source of torrents is suprnova.org.
BitTorrent, its logo and its web site are all copyright © 2001-2003 Bram Cohen
December 01, 2003
Where would I be without her strong mind, fiery attitude and big heart. She blows a breath of life and passion into my otherwise mediocre tour of life. I was lost until she found me and she is now my muse, inspiration and a true companion in the battle that life sometimes is.
Always fighting for the less fortunate; may it be old, sick or poor people.
Loves dogs above all... for both good and bad. Other animals are very high up there as well.
"Thank you for everything", I tell her.
"Pay me back in diamonds", she says while smiling the most seductive little smile.