« October 2003 | Main | December 2003 »
November 30, 2003
This is where we go if the weather in London gets too gloomy or we are in need of a Guarana.
The restaurant is like a Brasilian churrascaria where the staff keeps serving meat to you until say no or just drop dead. There is also a salad buffet to go with the various meats or to be enjoyed by vegetarians. The salad buffet includes the traditional rice, black beans, farofa and pao de queijo.
You have to be a meat lover to really enjoy the experience here because it keeps coming fast and a plentiful. You will be served all kinds of meat and various cuts so feel free to ask the churrasqueiro about the piece that is in front of you.
There will be pork and chicken sausages, chicken wings legs and hearts, pork filet and rump steak and the best of all, the picanha (skirt steak). The special Brasilian cut that I understand is a mix of beef back and rump.
Various typical Brasilian delicacies and beverages are available so you can come here if you miss them too much or just want to try them for the first time. Caipirinha is a very simple yet potent Brasilian cocktail, made from sugar, lime, ice and pinga. Guarana is the wonderfully different soft drink that could become as big as Coca-cola if it was more heavily marketed. Then there is the pao de queijo (cheese bread) that is made from tapioca flour and has a wonderfully gooey texture.
Rodizio Rico is the best churrascaria experience in London but if you have been to a good churrascaria in Brasil (especially Sao Paulo) you will be disappointed by the quality of the meat and the rather small choice at the salad bar. If you want better quality meat and will not miss Brasilian atmosphere then check out one of the Gaucho restaurants instead, eg the one in South Kensington.
A meat buffet (all you can eat) is around £18 and with drinks on top of that expect a bill of £25-30 per person.
Update 09/03/2004
We went to Rodizio Rico the other day just to notice how much worse things had gotten. It was Sunday lunch time which may be a little excuse but not really.
During our two hours we were not served a single piece of meat, just chicken and sausages. This is unheard of. Only after heavy complaining and threatening with only paying the vegetarian price were we served our deserved picanha.
The black beans were mainly brown water with a few beans swimming around, disgrace.
The Caipirinha tasted just like sugary lemonade. Even the Brahma Guarana had been replaced by an unknown, Portuguese (!) version called Guarana Brasil.
November 28, 2003
I have some good news and I have some bad news; which one would you like to hear first. Bad? Well, there is no more left of the impeccable pumpkin pie. I finished that last piece, that was rather large, this morning. HAH!
The good news is that the Thanksgiving Dinner yesterday was a success with plentiful of friends, even more food but most of all, a cozy atmosphere.
Carla cooked up a storm, once again, and Claire helped out with the above mentioned pie. Malte and Kristina brought bagfuls of red wine and Pedro contributed with the crucial ice cream.

Frida stood out, as always, with her eloquent knowledge of the history of Thanksgiving, brownie points your way girl!
We would not have made it without Ginger, who dutifully went through one unfinished plate after the other. Just like me, she was eating like there was no tomorrow.
Surprise guests were Malte's parents who had made it all the way from Sweden; ain't that something.
In other news, there is some turkey and mash left for whoever makes it home first. GO!
November 27, 2003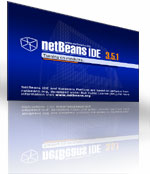 NetBeans IDE has been my prefered IDE for the last 1.5 years. The reasons are several. OpenSource software, continuously extended and last but not least, it is free. While it doesn't have as many features as some £3,000+ IDEs, it has enough to keep you busy.

The features that I find most useful and use every day because they speed up the development.
There is the DB explorer that lets me browse a data base to see the tables, data types, values and lets me execute any queries (including updates).
The CVS integration is great as it lets your check in and out source files directly from the development environment. I have only tested it together with Microsoft VSS (what a pain that is btw) but it supports other CVS profiles. While it is handy it can be a bit slow on large directory structures so I tend to use it for single files only. When I want to manipulate large amount of source files, I use the VSS client instead.
NetBeans has good XML and XSL support. It lets you validate your XML documents and you can do XSL transformations right there in the IDE. No XSLT debugging though, so get your self a decent XSL IDE (XML Spy or Xcelerator) for serious XSLT.
Javadocs are always tedious to write but NetBeans makes your life little bit easier. It has a nice JavaDoc GUI where all the important fields are listed. It can also auto correct missing fields for you which again saves time.
Ant is integrated in a way that you can browse your build.xml files and execute specific targets.
If you ever need to write localised property files NetBeans helps out with that as well. It will display keys and the various localised values in a matrix, making it easier to modify them all at once.
The GUI Editing in NetBeans looks extensive but I have not got around using it since all work has been web related and did not include any AWT or Swing coding.

There are some disadvantages that I have found. I miss a refactoring functionality the most. Other IDE's (eg IntelliJ) have features like "find usages" of a method or "refactor" that lets you change package and method names across the whole source. With NetBeans, I have to use the "Find..." functionality and manually make any changes.
Large projects often have source code across multiple modules and directories but are built into one single directory structure. One approach that other IDEs take is that they allow you to set up matching patterns on where to build a source. You probably want different directories for Servlets and other front-end classes, libraries and EJBs. NetBeans is very difficult to set up to build to multiple targets. One has to basically manually specify the build directory for each source file... time consuming.
I also miss J2EE support (templates, wizards). Having grown custom to Borland JBuilder's J2ee support I find some task very repetitive and manual in NetBeans.
Another new and upcoming OpenSource IDE is Eclipse. Some knowledgeable people (Sean and Matt) have been swearing by it, saying that it is indeed better than NetBeans. I had a brief look at it but because the UI and other crucial details seems to be working differently I did not dare to use it for actual development yet.
November 23, 2003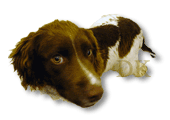 It has become an annual tradition to go to Earl's Court Exhibition Centre (2) to the Discover Dogs show.
The area is filled with every single dog breed imaginable and it's all well organised so that you can quickly get your head around various dog groups and their characteristics.
Carla is crazy about dogs and I suspect that it might have rubbed of on me because I enjoy it such as much as the other dog geek at the show (mental note, a review about the funniest movie made: Best in Show).
Each breed has their own stall where the proud owner has anything between one and six dogs to show up. The stall is covered with leaflets of information and photos. Ask any question about the breed and be ready for an eloquent and long answer.
In the middle of all the stalls, there are two exhibition areas where several activities are performed through out the day. There is the agility competition, the basic puppy training and the important instructions on what to do if bothered or even attacked by a dog.
Don't be shy or afraid to bring your kids, every one else does and there is a lot, a lot of patting going on.
November 20, 2003
What a sweet, sweet movie from the writer of such classics like Four Weddings and a Funeral, Notting Hill, Bridget Jones's Diary and more.
The main theme of Love Actually is that love is actually all around us despite all the negative vibes lately (wars, terrorism, natural catastrophes). We follow a group of people in their search for love.
There is the Prime Minister (Hugh Grant) who falls in love with one of his staff. At first he is confused because of this but later he succumbs to love.
Funniest character is definitely the old rocker Billy Mack (Bill Nighy). He is determined to get a #1 with his song "xmas is around..." despite admitting how crap it is.
All these characters have seemingly one thing common, which is the search for love. Later it turns out that all character are somehow related
Of all the character, I could relate the most with Jamie (Colin Firth). He falls in love with a Portuguese woman (Sienna Guillory Lucia Moniz) without speaking a word with each other. Later he learns to speak Portuguese in evening class just to be able to ask her father for her hand. His charming words include the phrase: "I would like you to inhabit England with me".
All in all a feel-good movie that I am looking forward to seeing again.
"When the planes hit the Twin Towers, as far as I know, none of the phone calls from the people on board were messages of hate or revenge - they were all messages of love."
November 18, 2003
Well, I happen to work a couple of blocks away from the American embassy here in London.
We were notified last week that the area might get busy with demonstrations and that it will have increased security checks this week. Today during lunch hour I saw the first indications of this.
There are a lot of police constables walking around in the streets and certain shop keepers were busy boarding up their windows (!).
I did bring my digital camera with me today in case some juicy snap opportunities arise. I doubt getting any glimpses of the president though since his administration has made a lot effort in order to confuse people and to stop them from getting close to the president.
There are reports that "Bush decoys" will be moving around in the area. Also, reportably anti-Bush demonstrators are confined to demonstrate some distance away from Bush so that he can't hear them nor see their signs.
Pro-Bush demonstrators, on the other hand, are able to wave their flags right in front of him. It's called crowd control and "demonstration zones".
November 14, 2003
... and bubbles like me. Especially the ones in the Jacuzzi at the gym.
Funny, it would be enough just to use the steam room and Jacuzzi and feel like you've been to the gym and have had a healthy workout.
Anyways, the weekend is here and I am ready to submerge my self into it. It has been a hard week at work with finishing a project to be delivered during the next week.
November 12, 2003
... these cars are parked outside your office window and in the garage below you.
First you have your SUVs; Porsche Cayenne, BMW X5, Lexus LX and Mercedes. Normally quite a head turner but not so much in this hood. The Humvee H2 LUX is still a head turner though. Do you REALLY need a £30k army Jeep to drive around Mayfair?
Not as many Jaguars as I would have expected. Just the occasional X and S-type.
From the sports cars family, the Porsche Boxster and Ferrari are most popular. A yellow Lamborghini visited on one rare occasion.
The most majestic of all the cars are the Rolls Roys. Always chauffeur driven and with a yawning business man in the back. Does he realise he is riding a state of the art hand made very rare piece of machinery? I guess not because if I was riding an RR my eyes would be wide open and a large grin would have been stuck on my face.

My favorite are the Bentleys. They usually come in black or dark grey. The convertible Bentley in the company garage is a high-scorer.
Then of course we have my Ridgeback that does not quite blend in with the cars in the garage but that severs me faithfully. Also, while my ass is getting smaller when using it, the other's asses are just getting larger when riding their large vehicles.
Does this make me jealous? Not really, I just enjoy walking in the street and rubbing up against the cars; maybe I'm just not the jealous type.
And sorry for not including any photos. Last time a blogger did that, it got him fired. It was blamed on breach of security but was it really? Maybe it was because it was a photo of a bunch of Apple G5s being carried into the bowels of Microsoft.
November 09, 2003

This has to be one of London's better kept secrets, hidden in a tiny side street off Kensington Church St.
When I saw the sign I imagined a small American diner and wasn't very impressed with Pedro's suggestion.
I was well surprised to see that inside was a three floor mansion with a very rustic and charming decor; intimate booths in the basement for a romantic first date and a lower and first floor with various sized tables, booths and a banquette table (seats 16).
The menu is a meat feast. While there are classics like filets, saddle of lamb and rump stakes, there is also a lot of game. Choose between rabbit, ostrich, duck and venison.
My Scottish fillet with a rich mushroom sauce was just fantastic. The beef was tender like butter and the dish had a cozy home made feeling to it. Probably the best meat I have had in London during the last 3 years. The deserts are massive and include classics like apple crumble pie and bread and butter pudding.
A main dish is around £15, deserts are £4.50 and there is a set three course menu for £23 if you are hungry.
Maggie Jones's has an interesting concept for serving wine. It comes in large 1.5l jars and keeps coming until you are ready to pay the bill. You pay only for what you drink
6 Old Court Place, London, W8 4PL (Map)
Nearest Tube Station: High Street Kensington
Tel: 02079376462
November 08, 2003
So I did give it a stab, trying to fix my PlayStation 2 after the earlier mishap.
It started badly, I couldn't even open up the ps. This article about adjusting the ps2 laser came very handy. It showed both how to open the ps2 up and how to open up the DVD-rom.
All it took was unscrewing some 18 screws, readjusting the DVD tray and putting all back (in correct order). When I turned on the PS2 next time, that happy Team Soho log greeted me and The Getaway was loaded 25 seconds later.

And that... is how it's done!
Update 28/01/04
The comments are now closed. Please post any new questions in the forum.

November 06, 2003
Well this was a bit pants. The kick ass action did not manage to salvage a questionable script.
It feels as if there never was a script or even a story for all three parts of Matrix. It feels as if there was a fantastic idea and great script for the first part. When it turned out to be a success, a rather rushed script was put together for the two sequels.
One noticeable thing in the Revolutions is that most of the movie is set out side of Matrix, i.e. in the real world. This is in contrast to the first Matrix were most of the action was inside the Matrix.
Still, the conclusion of the Matrix trilogy just has to be seen. Everyone has to make up their own mind because 4 years ago the Watchowski brothers started something revolutionary with the original Matrix.
November 06, 2003

Canon EOS-5, Canon 28-80mm, f/5.6, Ilford 400 Delta Professional B&W Film
I associate this composition with two friends, one chubby the other tall, one early Autumn morning.
November 05, 2003
I was in the middle of completing level 6 on The Getaway, you know the one where you are supposed to lure the Triads to the Yorkies.
Well, Ginger decided to make a dash for her toy but got tangled up in the controller cord and pulled down my PS2 from a shelf. It landed with a magnificent crash, Ginger jumped 1 feet up in the air and I was presented with psychedelic patterns on the TV.
Needless to say, the PS2 is not working; the DVD-Rom is not opening. I will probably stab at it this weekend with a screw driver but my hopes are low. Another one bites the dust I guess.
In other news I got my first comment spam on some old posts. It's a bittersweet experience; I hate all forms of spam but I have been feeling left out until now.

Update
Comments have been closed, please use the Ps2 forum to post your questions!
November 01, 2003
Sheesh, it is now 6pm and I have been paying my dues to the blues since 6am. The Halloween party was great fun but refreshments were a plentiful and I enjoyed them too much. Finally I was able to keep a camomile tea that tasted like God's nectar and a banana that may have been the best banana in the world.
I am still amazed how the posse was able to consume 8 bottles of red, 3 bottles of white, 2 bottles of Champagne, 20 cans of lager, 4 bottles of cider, 6 very nasty vodka shots and various scotch and cognacs. Well done I guess, heh. To accompany the drinks were Chumbo's spicy chilli and tortillas. She looked like a true witch while stirring away at the secret contents of one large cauldron.
Thank you all for showing up and making it a special Halloween!