« March 2005 | Main | May 2005 »
April 29, 2005
Update 10 April 2007
It looks as if Windows Vista comes with similar half-open outbound connections limit as Windows XP SP2 did. In fact Vista Home Basic is even more limited with only 2 connections allowed!
Torrentfreak has a great write up on how to patch Windows Vista (32/64-bit) to increase the TCP connections and improve your BitTorrent (p2p) experience.
If you are using Windows XP, you must have noticed all the fuss about Service Pack 2. It introduced an array of security "enhancements": dual direction firewall, several long overdue IE improvements, memory protection and the crippling of the TCP/IP stack.
Hang on, how is crippling of the TCP/IP stack a security enhancement?
Windows XP SP2 limits half-open connections (SYN) to a maximum of 10 (the previous limit was over 65,000). This is supposed to slow down certain viruses because their spreading strategy is to try to connect to a high amount of random IP numbers.
The drawback with this connection limit is that other legitimate network intensive applications can be slowed down as well. Applications like security network scanners, peer-to-peer (P2P) applications or a combination of network applications that a power user may be using (VPN, FTP, p2p, RDP, SSH, "Firefox on steroids" and more).
To me it sounds awfully lot like treating the symptoms instead of the cause which would have been to tighten up Windows security to prevent virus infections in the first place.
#PAGEBREAK#
There is a way to tell whether your daily networking activities are being affected by the patch. Each time your computer tries to establish more than 10 half-open connection, a system event will be logged in Windows. It looks something like this: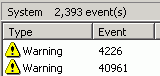 EventID 4226: TCP/IP has reached the security limit imposed on the number of concurrent TCP connect attempts
Access the event viewer by Start / Control Panel / Administrative Tools / Event Viewer / System. Sort by Event and scroll down to 4226. If you only have a few occurrences, I would not worry about it but if you see many daily occurrences it's time to look into why they are appearing.
There are two scenarios:
1. You computer may be infected with a virus/worm that is trying to spread
2. You are a networking power users and your applications are being stalled by the XP SP2
If you have anti virus software running and you scan your computer regularl ywith anti-spyware software like AdAware then case 1 is not likely.
#PAGEBREAK#
You can find out which process is responsible for the many half-open connections with the command 'netstat -no | find "SYN"'. Half-open connections will have a state of other than ESTABLISHED. Note the PID (process id), open Task Manager and locate the process and application responsible for the half-open connections.
The second case means that SP2 is stalling your work. An unofficial patch will modify the locked tcpip.sys and let you set the limit to whatever you wish. 50 half-open connections is a reasonable limit or you can set the limit back to 65,535 which it was before the SP2. The patch is called EventID 4226 Patcher and can be found on LVL Lord's web site: LVLlord downloads.
Certain Microsoft updates may replace the TCPIP.SYS with a new locked version but LVLLord has been quick on updating the patch. When you run the patch, it will tell you how many connections are currently allowed.

April 19, 2005
Google have extended their brilliant Maps and Local services to the UK. Until now I have only been using it to see how good online services can be. Now I can use it daily to find addresses, get directions and find services (plumbing especially) in London and UK.
Google Maps is a very intuitive way to present maps. Easy zooming, powerful search and smart dHTML like moving the map around are my favourite features. Wonder if Google plans to add satellite images like they do with the US maps.
Google Local combines Google maps with a local directory of services, restaurants, theaters and much much more. Until now I have been using UpMyStreet and it will be interesting to see how well Google Local performs compared with them.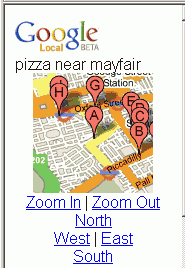 Last but not least, see if Google Local Mobile works with your mobile. It should if it supports XHTML (i.e. not older than 2004).
Having access to free maps, directions and local directory from your mobile is just priceless.
PS The SonyEricsson T610/T630 has problems with the mobile version. Firefox has problems as well, use Internet Explorer if you want to try it from your desktop.
Currently the Yell footer has a bug (omitted quotes in href) which creates a XML parsing error and only sloppy IE can display the results. Stay tuned, should not take long to fix this.

Update May 10th
The error has been fixed. I doubt it was due to the email I sent to Google support (I did get a reply though) but instead due to the official launch of Google Local UK Mobile (GLUM). Have a go!
April 11, 2005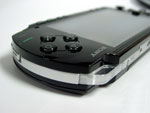 With an unconfirmed European release date of July 2005, many European gamers are certainly eyeing imported alternatives. They are however weary to how an imported system will perform in Europe and UK. I picked up a Sony PSP value pack during a recent trip to Japan and can report that using the console and one Japanese game has been very easy (and highly enjoyable).
My main worry was whether the Japanese console supported English menus. I was happy to see that when you turn on the PSP for the first time, it let's you choose between 15+ languages (English being one of them). From then on, you will not see a single reference to Japanese.
#PAGEBREAK#
I purchased the much raved about game Lumines. The game is 99% in English making it very easy to play. All in all I have seen two "pop-ups" in Japanese but they were not relevant to the game. Good news. There were several RPG games on the shelves that seemed to be in Japanese only so I avoided them.
Previous PS console games had region encoding which meant that a game purchased in USA would only work in North America. Sony decided to unlock the PSP to make it a truly portable system: if you travel from Europe to USA, you should be able to purchase games in the USA and be able to play them on the way back. With the recent PSP release in USA, you can now get hold of many new English titles.
The UMD movies are region encoded at the moment. The Japanese PSP is region 2 which suggests it is better suited for future European UMD movie titles. USA is region 1 as usual.
The PSP is delivered with an electricity adapter that supports 100-240 Volt and 50/60 Hertz. This means that it can be used in most (all?) countries provided you have a socket adapter. The end that plugs into the socket can even be removed and replaced with your local version.
#PAGEBREAK#
So is the Sony PSP any good? So far I have been mighty impressed with the big bright LCD screen, graphics, sound, photo and video viewing from memory stick, MP3 listening and WiFi support. Dead pixels seems to be a common problem so it is good being able to switch on the unit before purchasing it to test for any dead pixels. However 2-4 separated dead pixels are very difficult to spot during game play.
At the time of writing a PSP value pack was YEN24,000 which is roughly £120. It will be interesting to see how much the PSP will sell for in "rip-off" London when it finally launches.

Update
Comments have been closed. Please use the Sony PlayStation Portable PSP forum to ask any questions.
April 03, 2005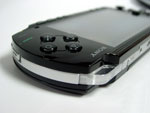 I have always thought of Japan as being the world capital for consumer electronics shopping; that there would be an amazing selection of gadgets at bargain prices to be found.
Some it was true, some was not.
Several very well stocked camera shops are located in the vicinity of the Shinjyuku station, more precisely on the west side of the station. Yodobashi Camera and Sakuraya are two good shops where you can even ask for a "best price" to try to lower the asking price.
It is said that if Yodobashi Camera does not stock the photographic item you are looking for, it is not available in Japan.
A great tip if you purchase a camera is to take it to the manufacturer's local service shop where you can exchange the Japanese manual for other languages. Nikon has convenient service shops in Ginza and Shinjuku and the exchange took 5 minutes (great tip from Jeremy at Antipixel).
Mobile phones are well ahead of those in Europe and USA. Common phone features in Japan are 3-4 mega pixel cameras, TV receivers, high definition screens and broad band speeds.
No wonder there are always a couple of open phones around you; people watching the latest baseball game, showing each other high resolution photos or surfing some net for information.
Unfortunately there are almost no GSM phones for sale. I did find some but they were at rip off prices, bit outdated and most likely to lure clueless tourists.
Some shops announce with large signs that you can shop Duty Free. This means that the shop has the required license to sell items duty free. This also seems to mean that the shop can jack up the prices with 5-10%, sometimes negating any gains to the purchaser (you).
Check prices for the item you want both in a duty free shop and a regular back street shop and bring your passport as it is needed for duty free discounts.
Akihabara is the electronics district of Tokyo. If you are familiar with London, you can imagine it as Tottenham Court Rd on drugs.
It is easy to get distracted by the sheer amount of gadgets on offer. Very few of the staff speaks any English so it is best to be prepared by knowing exactly what items and model numbers you are looking for; also of their home prices.
Have a look around in a few shops to get an idea of the prices. Any shop will most likely match a (realistic) price you found in a different shop in order not to loose your business. This means you can do all your shopping in a single shop once you know the lowest prices.
With the current weak US dollar and Japanese language problems, I did not find any real bargains. Prices were always comparable with UK and never as low as US, Singapore or Hong Kong.
The highlight of electronics shopping in Tokyo is the sheer amount of items that the European market will never see. If you are on a tight budget, window shopping is an alternative.
If you happen to purchase too much and cannot fit it all in you bags, don't fret. This is an opportunity to buy a state of the art suitcase that can be rolled around (not pulled) with one hand only.