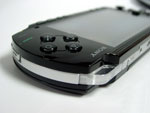 I have always thought of Japan as being the world capital for consumer electronics shopping; that there would be an amazing selection of gadgets at bargain prices to be found.
Some it was true, some was not.
Several very well stocked camera shops are located in the vicinity of the Shinjyuku station, more precisely on the west side of the station. Yodobashi Camera and Sakuraya are two good shops where you can even ask for a "best price" to try to lower the asking price.
It is said that if Yodobashi Camera does not stock the photographic item you are looking for, it is not available in Japan.
A great tip if you purchase a camera is to take it to the manufacturer's local service shop where you can exchange the Japanese manual for other languages. Nikon has convenient service shops in Ginza and Shinjuku and the exchange took 5 minutes (great tip from Jeremy at Antipixel).
Mobile phones are well ahead of those in Europe and USA. Common phone features in Japan are 3-4 mega pixel cameras, TV receivers, high definition screens and broad band speeds.
No wonder there are always a couple of open phones around you; people watching the latest baseball game, showing each other high resolution photos or surfing some net for information.
Unfortunately there are almost no GSM phones for sale. I did find some but they were at rip off prices, bit outdated and most likely to lure clueless tourists.
Some shops announce with large signs that you can shop Duty Free. This means that the shop has the required license to sell items duty free. This also seems to mean that the shop can jack up the prices with 5-10%, sometimes negating any gains to the purchaser (you).
Check prices for the item you want both in a duty free shop and a regular back street shop and bring your passport as it is needed for duty free discounts.
Akihabara is the electronics district of Tokyo. If you are familiar with London, you can imagine it as Tottenham Court Rd on drugs.
It is easy to get distracted by the sheer amount of gadgets on offer. Very few of the staff speaks any English so it is best to be prepared by knowing exactly what items and model numbers you are looking for; also of their home prices.
Have a look around in a few shops to get an idea of the prices. Any shop will most likely match a (realistic) price you found in a different shop in order not to loose your business. This means you can do all your shopping in a single shop once you know the lowest prices.
With the current weak US dollar and Japanese language problems, I did not find any real bargains. Prices were always comparable with UK and never as low as US, Singapore or Hong Kong.
The highlight of electronics shopping in Tokyo is the sheer amount of items that the European market will never see. If you are on a tight budget, window shopping is an alternative.
If you happen to purchase too much and cannot fit it all in you bags, don't fret. This is an opportunity to buy a state of the art suitcase that can be rolled around (not pulled) with one hand only.