« October 2004 | Main | December 2004 »
November 22, 2004
Yet another address in London; this is the fourth time we shuffle all our lively possessions in hopes of bigger and better.
Moving is a pain in the butt but (intended) this time we had help from the amazing guys at Aardvark Removals. They were very professional, chatty and did not flinch even when faced with two 100kg+ rose pots (actually, they did flinch a wee bit) in the garden.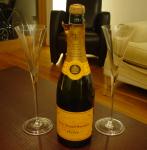 14 hours and 100 boxes later, we were settled in into our new flat and the festive bottle of champagne was uncorked. Still plenty of unopened boxes but with the bed assembled, a roof over our heads and the TV set-up I am content.
House warming party you ask? Send me your details and you will be invited in the very near future...
Memorable moments:
* The moving guys singing along to Dire Straits, Money for Nothing playing on MTV. "We got to move these refrigerators, We got to move these color TV's"
* Pizza dinner and listening to 30 years of removals stories
* Ball room dancing in the new lounge while sipping champagne...
November 09, 2004
Last year I noticed a Mac OS application that looked very sleek and I wished it would run on Windows. This month my wish came through.
Konfabulator is an engine that runs in the background and updates various widgets placed on your desktop. These widgets display information about your computer or information fetched from the Internet.
The installation comes with 15 default widgets to update you about the weather, time, WiFi strength, CPU usage, photo frame and more. On the Konfabulator gallery page you will see that people from around the world have contributed with hundreds if not thousands of widgets to perform all kinds of tasks.
One common characteristic of the widgets is their design. It is pure eye candy combined with high functionality. Fancy transparencies, docking to the side of your desktop, eye popping icons and much more previously only seen on Mac OS.
My current favourite widget is the standard digital clock in float mode and very high transparency. What is your favourite widget?
November 03, 2004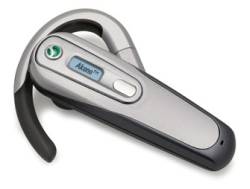 Yet another Bluetooth headset. I sure hope that this one sticks with me for a while.
The main feature that sold me the Sony HBH-660 was the caller info.
The headset has a tiny 6 character LCD display. Besides showing battery status, volume level and other good information it also display a caller's number or name if you have the number stored in your phone as a contact.
The headset comes with a strap so that you can wear it around your neck. Much better than loosing it in a pocket somewhere. While wearing the unit around your neck, the caller info is really handy.
The battery life has improved slightly from my previous HBH-60. This could also be just a perception due to the new battery indicator.
The HBH-660 is tiny bit heavier than the HBH-60 and HBH-600 but it did not result in any discomfort.
On a downside, my HBH-660 has worse voice quality than my old HBH-60 and HBH-30. This could be due a faulty device but I recommend you to try it out before purchase!