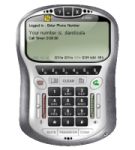 (Updated again, see end of article.)
Voice over IP (voip), also called internet telephony is becoming a stronger and stronger competition to the traditional Telco companies.
Skype has become very popular because it let's people make free calls between computers. With additional services one can even call land lines all across the globe for a fraction of traditional Telco costs. One annoying issue with Skype is that it is using a proprietary format, ignoring the established SIP protocol.
Voipbuster is a similar application provided by the Swiss Telco Finarea SA. The company has multiple cheap telephony services operating in UK and Europe and some other names they go by in the UK are 1899.com and call18866.co.uk.
Voipbuster is however their first computer client. It has a minimal amount of features but it let's you make calls and store contacts.
Currently the software is in beta status and during this period Voipbuster offers you free calls to landlines in over 20 countries.
See the official list with rates to see the currently free countries.
To avoid a 1 minute cut-off limit you have to credit your account with the symbolic sum of €1 (70p, $1.20) €5 €10. This is to prevent abuse of the service and since you can pay with Paypal it is just a minor nuisance.
#PAGEBREAK#
The quality of the call is exceptional and always higher than what I get through my standard phone.
The reason being that traditional telephony solutions (PSTN) are often band limited, as much as 300-3400 Hz. Voip is able to utilise a wideband codec solution that uses much higher sampling rate (16kHz) and a upper band of 8kHz.
Back to the SIP protocol. Since Voipbuster supports SIP, their service can be used with any of the many, many available SIP clients (also called soft phones). Some are commercial, some are free. All offer more functionality than the Voipbuster client but not always better voice quality.
I managed to locate a free SIP client that supports conference calls between multiple SIP callers (X-pro). This means I can use Voipbuster service, call to multiple landlines in the free countries and connect them all. End result is a free call for everybody.
#PAGEBREAK#
If you cannot stand calling from your computer, you can even call your self at home, switch on conference and continue the free call from your home phone.
Download X-pro from braintel.net.pk/configuration.htm. Install, start up and hit Control-G to initiate an upgrade.
Set up X-pro to be used with the Voipbuster SIP gateway:
Enabled: YES
Display Name: [VoipBuster user name]
Username: [VoipBuster user name]
Authorization User: [VoipBuster user name]
Password: [VoipBuster password]
Domain/Realm: voipbuster.com
SIP Proxy: sip.voipbuster.com
Disable the lower quality GSM codec by clicking on it.
Dial a number on line 1. Dial a second number or your own home phone on line 2. Hit the conference button and all three parties are now enjoying a free international telephone call.
If you are looking for a catch there is none. If you instead think that free is not a sustainable business model you are very right.
Voipbuster is currently in BETA mode and once any network issues have been dealt with and/or the usage has reached a critical mass I expect similar pricing as on the other Finarea SA products.
One can always hope that competition in Voip has reached such a level that networks are ready to provide flat fee or even free calls to certain international destinations!
PS Currently evaluating the Pocket PC application Stanaphone together with the VoipBuster gateway.
Update November 8th, 2005
#PAGEBREAK#
VoipBuster have now dropped the majority of the free countries. It is now obvious that the 25 free countries was too good to be true.
I was hoping that Voipbuster was about to start a revolution in VOIP where certain common destinations would always be free and income would be generated from other destinations.
Instead it seems that it was a marketing trick to attract new customers and all their 5 Euros 🙁
This wiki page has more in depth information about Finarea and their companies.
There is a new method of making international calls for free as long as you have unused mobile phone minutes:
The VOIP operator Rebtel has a system where both you and your friend (in a foreign country) call a local number and get connected.(more details).
I have confirmed that this works to Sweden, Brazil, USA and likely all other countries that Rebtel support.
Happy calling!