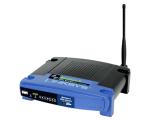 Hello you world of wireless fun. Here I am, please take me in with open arms. I have been a believer for a long time but never really got around getting the right equipment. Now I have.
The Linksys WAG54G is a handy 4-in-one device for an ideal home broadband and wireless solution. The device is full of features
With the built-in ADSL modem the device connects to broadband Internet. The device comes with a micro filter and a phone cable so it's all in the box, ready to run.
The device has a router with 4 switched ports to let you connect PC, laptops, printers and etc. via network cables. All computers connected to the router will be able to shares resources creating a home network. By plugging in additional hubs you can create as large network as needed. Of course, all computers will have access to the broadband connection.
The 802.11g (WiFi) access point lets you connect wirelessly from other devices. The g standard supports speeds of up 54Mbps and is backward compatible with the older b standard in case you have any such devices. The access point supports 128-bit WEP encryption and MAC address access list making it decently secure.
To complete the picture there is a firewall to fend off any hack attempts. The firewall is configurable for port forwarding and DMZ if you need more control over what services would be available inside your network. An extra security is time based access control. With this feature you can limit certain devices (like your child's PC) to access the Internet only during certain hours.
The Linksys WAG54G can be set up to create a VPN connection to a VPN server. This is ideal If you are working from home and need to connect to your office. All devices inside the Linksys will automatically be able to access the LAN at work.
Included in the box is one network cable so that you can set up the device and start using it straight away. Connect to http://192.168.1.1, browse through all the settings and set them accordingly.
ADSL setup: account, password and ADSL parameters
WiFi: change SSID, turn off broadcast, turn on WEP 128-bit encryption, set up a MAC access list
Change the administrator name and password
Takes around 15 minutes and is very straight forward. The Linksys WAG54G can be purchased for just above £100.
Update 15/02/04
The newest firmware update from Linksys corrects incorrect system time and adds WPA security. Definitely a must.
Check out the the Linksys WAG54G forum.