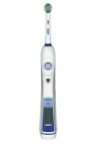 In Sweden there is a saying that goes "A Dear Child has Many Names" and were that true, this electric toothbrush would be very loved indeed.
Call it OralB, Braun, PC9500, Professional Care or just Triumph, I found it to be well designed, doing a great job but ultimately not a £169 (recommended street price) worth of job.
The brush uses oscillating action as in opposite to ultrasound action. I researched the issue for 5 minutes before the purchase and found reports that oscillating action is more effective so opted for it.
Four different brushing modes are available. They are all just different combinations of speed and pauses. Soft mode is lower speed, Clean mode is the standard fast mode, Polish is a mode where speed keeps increasing and decreasing and Massage is a pulsed mode.
The novelty of the different modes wore off very quickly and the brush is now always in Clean mode.
While brushing you teeth, the brush signals you every 30 seconds with a short pulse. After 2 minutes it switches itself off.
The digital battery indicator is really handy to see how much juice there is left in the brush and will save you from half-finished brushing sessions. At the moment our battery refuses to charge to more than 50% but I hope this will improve with more usage.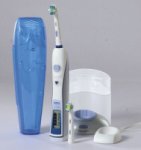 The box contains all of two brush heads; one for whitening action and one for flossing like action. In addition the box contains the Oral-B Braun 9500 Triumph brush, a sleek charger, a base to rest your brush in and a handy travel case which fits the brush and two brush heads. Oh yeah, there is a manual as well 🙂
The price of the Oral-B Braun 9500 Triumph ranges from online prices of £70 to a high street price of £169. I find this price difference a bit worrying as it suggests that the product is over valued. If you are keen on this top of the range dental hygiene equipment, don't spend any more than £70 on it!