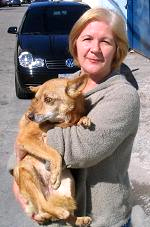 Do you love animals and are you thinking about a different way to make a difference?
Do you feel disgusted, angry and heartbroken to see a suffering animal?
Would you rather want to make a difference and truly help out?
This is a remarkable story of an ordinary working mother that all by herself changed the fate of over 150 dogs left to die. This during 16 years of love, dedication and hard work.
If nothing else, it will at least warm your heart to hear it.
Very different from the reality in the UK, abandoned animals in the streets of Sao Paulo, Brazil are numberless. They are living in the most deprived conditions and are suffering from chronic (but often preventable) diseases and starvation.
Most of the abandoned animals are at first perfectly healthy but it is just a matter of time before they are victims of cruelty, disease or fatal accidents in the mad traffic.
For these unfortunate (hairy) souls, there is little to nothing available in the governmental system that could help them. Instead they rely solely on the pity of animal loving individuals.
That is a bit how Ines Sanches, an ordinary working mother of 55 years, started on her path of helping suffering animals in the city.
Living in a busy part of Sao Paulo, she was walking home one evening when a shrieking sound made her head turn: a passing car had hit a young dog with full force. She rushed to the scene, only to hear from the dog owner himself that he had no means to help the poor animal, and that he was going to leave it there to die.
Appalled by the cruelty and disregard, Ines did not think clearly and took the injured dog home. This despite her own busy life full of problems and lack of funds and space.
She named the badly injured dog Madona and against all odds, with time and proper care, Madona made a remarkable recovery. Little did Ines know, that that event would change her life forever.
Madona turned out to be a fantastic companion to all the family. Lifting up the spirits of the household when they most needed it. She turned their lives around with her gaiety, contentment and recognition that in a way, Ines had saved her life.
From that moment on, Ines realized that she simply could not turn her back on the agony of the animals abandoned or injured in the streets of Sao Paulo and despite her own difficulties, she decided to do something about it.
Ines started by taking the suffering animals into her own house, nurturing them, caring for their wounds and diseases and then putting them up for adoption.
Quickly Ines realised that she needed a bigger site to accommodate the dogs while they were getting well enough to be ready for adoption.
16 years has now elapsed since Madona had been left to die on the road and today Ines and a team of volunteers care for 150 dogs collected from the streets of the city in a purposed build kennel, funded solely by the charity of friends, family and passionate dog lovers.
Although this may seem basic compared to the UK initiatives such as the Dog's Trust, Battersea Dogs Home and the RSPCA, I can't stress enough how major this is for the cruel reality of Brazil.
Ines' initiative stands out for the longevity and professionalism. Her dedication to the project has overcome many difficulties in the last decade and despite the total lack of sustainable funding by the government, she has managed to secure a loving home and a much brighter future for the animals she has rescued.
As a fellow Brazilian dog lover, it makes me terribly proud to see what Ines has build up over the years. Facing the related financial challenges is very unique.
I know that many of you already have a continuous commitment to various charities which is maybe why I dare to ask if you can honour this amazing initiative with a donation. After all we are talking about changing the dark fate of suffering animals in one of the most violent and ruthless towns in South America (yes, my home town).
David has created this post to enable non-Brazilian residents to make a donation via paypal. We will collect all donations received and forward them to the Batalha Animal latest appeal (translated on the page) with a note from all of you.
If you have donated then thank you so much for helping, please feel free to share the story with other dog lovers you may know. We truly appreciate it!
If you are not able to donate than thank you for reading this far and please mention a word about Batalha Animal to your friends next time you have the chance.
Batalha Animal cares today for 150 dogs in a beautiful site with 5000 square meters. Batalha Animal has a live website with photos where they keep the interested parties and patrons informed on the use of the resources and on the development of the pets they care for.
For more info, lots of pictures, news and developments, here is the link to their local website:
www.batalhaanimal.com.br
Carla