« October 2006 | Main | December 2006 »
November 30, 2006
London's Leicester Square is getting free WiFi courtesy of the PR firm Four Communications.
It is an 8Mbps service whose only restriction is that you use it "fairly". The SSID (network ID) is Four's Free Hotspot.
London, welcome to the 21st century and let this be the first of many free Internet access points.
[Via Shiny Shiny]
November 05, 2006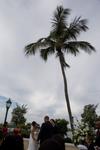 Our friends tend to live all across the globe and we do our best to travel long and far to join them on their special day.
This time the destination was even more exotic than usual because the wedding was to be in the Bahamas.
We did a short stop over in Miami and I was amazed just how close Florida and especially Miami are from the Bahamas: just a one hour flight away.
The wedding ceremony was conducted in open-air and drenched in a wonderfully yellow afternoon sunshine. There was even a saving fresh sea breeze to cool down the lucky couple.
Just when things were slowing down a bit, after the meal and before the dancing, a surprise was in store.
In entered a Junkanoo precession exploding with colours, carnival music and fitting dancers.
The locals quickly joined in on the fun and mixed in with the Junkanoo on the dance floor; hips shaking and hands waving.
Once the the Junkanoo had left the premises the DJ quickly took over with mainly "blasts from the past" which had mixed response from the crowd.
As the night progressed and more refreshments had been had from the large open bar, the dance floor was getting more and more crowded.
My favourite was the request for The Electric Slide. Not that I could match the synchronised dancing of the 30 or so locals but it was fun to watch.
During our visit to the Bahamas we stayed at Atlantis, "the paradise island". It was a bitter sweet experience but we would consider coming back another time when our son is a bit older. Let's leave the telling of the stay at Atlantis for another day.
Many, many congratulations and best wishes to the newly wed couple and we are looking forward to hearing all about the honeymoon when you are back in London!