« Oh no, the big 3-Oh | Main | Wedding, Bahamian style »
Bienvenido a Miami
October 23, 2006
Keywords:
miami
jetlag
baby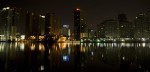 A short stay in Miami to visit some friends, do a few work engagements but mainly to suck up the atmosphere in the "sexiest city on Earth".
Shortly after our landing, we were again pleasantly surprised by how friendly the staff and local people are in the US.
While living in London you get used to having to beg to spend money on a service but in the US everyone greets you with a smile, inquires on how you are doing and maybe even adds a bit of gossip.
It is easy to get used to this politeness and friendliness.
This is also our son's first long haul flight. The flight went well because it was during his sleeping hours so he slept most of it.
What I was worried about was any symptoms baby jet-lag.
For a while we thought that our baby boy would manage the time adjustment just by sleeping longer.
This was not to be because he woke up at 2:30 am and was certain that it was 7:30. Eyes wide open and ready for another day full of achievements: play, feed; poop and sleep (in that order).
The dawn at the Brickell Key was followed by a sunrise that exploded with colours and hues. It made it almost worth it having to get up at 2:30 am.
Location: 25°45'56.55"N, 80°11'5.97"W
Related entries:
Comments
(No comments yet)
Post a Comment