« August 2003 | Main | October 2003 »
September 29, 2003
Networking sites are very popular at the moment and are one of the very few types of online activity that are attracting VC investment. Friendster is no exception and has already attracted around $25 million while still being in beta mode.
The growth of its user base has been amazing: from 0 users in March this year to over 2.3 million users at the moment and growing fast. See Stefan's article for a deeper analysis of the service.
The registration process is painless. Only name, email address and password are needed and you can start searching for friends and browse their network immediately. Later you can go on and add further information to your profile. This includes the standard music preference, books and other interests.
First I was a bit hesitant to the idea of cataloguing people like that and my spell check kept on insisting that I'd change Friendster to Fraudster all the time. Or maybe I was just jealous that I did not come up with the idea my self; so simple yet genius! Still it was too tempting to see whether the old six degrees of separation theory works so I signed up after only short amount of hesitation.
Another related project on this theme is the FOAF (friend of a friend) project. This requires however a more tech savvy person to be able to edit their own XML profile and to host it somewhere. On the other hand I feel more in control of a profile of me that I manage my self.
Once you have created an account, search for David Kaspar and add me to your friends. Then you will be able to see my profile and browse my network.
September 28, 2003
If you like a Latin atmosphere, you will definitely have a fun night out. Mojitos are served strong and crisp and tequila is delivered by a holster wearing Tequila girl.
Every weekday there are short salsa classes followed by some serious dancing. Saturday evenings it seems like they throw in some popular music as well, even if in a rather peculiar mix. You better not be the jealous type because there are always some very good dancers around.
Don't worry if you are odd couples as there are always individuals keen to steal a dance or two.
Best way to enjoy the food is by ordering many tapas (small dishes) and share among friends. Choose between fajitas, marinated potatoes, sausages, salads and don't forget to try some traditional black beans.
A Cuban place would not be complete without some nice cigars and Bar Cuba does not disappoint. At somewhat high price unfortunately; cigars start at £10 a piece.
Busy little place if you are in the mood for Latin food, drinks and dancing.
11-13 Kensington High Street, W8 5NP, London
Tel: 020 79384137
Tube: High St Kensington
September 26, 2003
To celebrate Henricos new position we gathered at the Glassblower, London. This get together was also a kind of reunion for old colleagues from Dooyoo.
It was a funny mix of old and new colleagues and Henriks new mates passed with flying colours, he is in good hands for sure.
The beverages were a lethal mix of lager, aftershock and Sambuca. Besides being bit heavy headed today, I am alive and kicking. One lesson learned, make sure to blow out the flames of flaming Sambuca before drinking.
September 25, 2003
A great spot to meet up with friends and have some enchiladas and a Corona or two. The fun factor is high but the drawback of this is that the place is loud. No venue for romantic dinners for sure.
The menu is bog standard Mexican food. You have your tortillas, enchiladas, nachos, sizzling fajitas and what not.
Watch out for high prices on drinks. The bill can easily spin out of control once you stop counting the margarita jugs and Coronas. Once we were 3 people eating and drinking and another 2 friends joined us for drinks and the bill was close to £90. One nice spin on the prices is their 80's prices during lunch; up to 50% of the regular prices!
This place is very lively and Thu - Sat it can be hard to get a table. We have had to wait for 1 hour in the worst case but on the other hand, another Saturday and we were able to get a table right away. Call before hand in order not to be disappointed.
September 24, 2003

Last night I attended the evening session of the public inquiry against proposed St. George development of Olympia Carpark.
The turnout was very good, around 300 people. During the 2 hours, 7-9pm, the inspector was told of around 30 arguments against the proposed development and, of course, non for.
The speakers varied in their level of eloquency but they were all passionate and made their point: what a disastrous effect the development would have on the whole area.
The Sinclair Road Residents Association has been informing residents about the development for the last year and I have been helping out the way I know best, by managing a web site for the cause.
There are some photos from the meeting available and I suspect that the chairman of SRRA will soon write an article about the meeting. Yes he did :-)
September 24, 2003
The last week or so I noticed that sometimes when I typed in an incorrect address, instead of getting the usual 404 Not Found, my browser was redirected to a page owned by VeriSign.
What VeriSign has done with their so called service SiteFinder is to redirect all traffic from unregistered .net and .com to their SiteFinder. While other companies have done that before (Microsoft and AOL), it has always been on an application level and thus you as a user had the choice to turn it off.
This time the redirection occurs on an infrastructure level, that is VeriSign has configured domain name servers (DNS) and routers in order to enable this.
One direct obvious consequence is that now users don't have a choice to opt-out. Another less obvious yet far more serious consequence is that suddenly all forms of Internet traffic (protocols) will be redirected; this including emails, file transfers and etc. Expect your anti-spam software to malfunction as it relies on checking invalid domains.
VeriSign argues that it is helping users of the Internet by presenting options when they type in an invalid address but who are they trying to fool. The main reason is as always money. When users use links to exit SiteFinder, VeriSign gets paid by advertisers. An annual estimate of $150 million has been mentioned.
I was once sharing an office with a tiny company whose idea was exactly this. Their application redirected users to pages sponsored by companies. The company never managed to attract enough advertisers or customers and soon went out of business.
I don't think it is fair of VeriSign to misuse their position as an authorised registry to create a monopoly. Both GoDaddy and Popular Enterprises think the same and have both filed lawsuits against VeriSign.
Source: news item
September 23, 2003
Just wanted to point out that there are new B&W photos from the Polish wedding in Zakopane.
Most were taken by Carla (you are getting good) some by me and some by various drunk guests.
September 22, 2003
Back in 1998 I was tempted (lured) by an investment form that promised a tax free return. By paying a small percentage each year, when I later chose to cash in it would be tax free.
There was a choice of switching between funds and it seemed reasonable to get an average annual return of 10%.
Then the problems started. Being 1998 I invested mostly in tech funds. Fast-forward to 2003 and only 30% of my investment remains.
When I called my fund manager to see what the status was I was explained that not only had the fund decreased in value due to bad world economy (fair enough) but that there is also a minimum fee that I am paying each year to the fund manager. This irrespectively of whether the fund has positive or negative track record (not fair enough).
Even worse, because my humble investment had decreased a lot in value, the minimum annual fee was around 10% of my investment and increasing. When I questioned whether this was reasonable, that the fund needed an annual return of 10% in order for me not to loose any money, I was told a confident yes.
I disagree and will be taking out any pennies left and rather spend them on lollipops and bubble gums.
On the other hand, Kina is an upcoming investment possibility.
September 21, 2003
The wait for the weekend is so long yet it passes so quickly.
I was mostly lazing this weekend. Simply couldn't force my self to the office on Saturday. I wanted to go on Sunday but nobody was there (I tried Nathan).
Visited our old favourites Vama and Nam Long on Friday. Once again I avoided the Flaming Ferraris as they do too much damage to the system.
Some more volunteer work for SRRA. I have not been distributing flyers in a long time. What a rush having a pit-bull snatching after your fingers when you are pushing the flyer through the letter box. One dog projectiled itself into the door like there was no tomorrow, poor little thing.
Thanx for the dinner invitation Frida, hoping to make it next time!
Leaving a friend at Heathrow. Meltdown in the BA queue, it was spiralling almost all the way out again. Why is it that BA chooses to serve passengers for 5+ flights with 4 staff at the check-in desks? 65 minutes later friend was checked in.
Witnessed a (big fat) Greek wedding outside a Greek restaurant on the way home. Good stuff, the bride had a cute little white hat on.
September 21, 2003
This is our favourite Indian restaurant in London. The food is exceptionally well done and presented in great settings; a great place for any celebration.
Expect around £30 per person for drinks and food.
We are regular visitors to Vama because of the high quality of food and the nice decor.
While I have tasted more authentic Indian food in London I still prefer the mellow yet succulent dishes of Vama. If you are new to Indian food, you can't go wrong with the chicken Tikka and some garlic Naan (bread). Ask to for a spicy version if you prefer your food hot.
Other options on the menu include salmon, tiger prawns and lamb. As always in Indian restaurants, vegetarians are well catered for as well.
The restaurant has two levels where the ground (main) floor is more popular. If you book early in the summer, you might get the popular table by the large open windows.
Come well dressed as the other guests usually do. Jeans and Rugby shirt was ok for me last night but I did not feel comfortable.
web: Vama
438 Kings Road, Chelsea, London, SW10 0LJ (map)
Tel: 020 7351 4118
Tube Station: South Kensington
September 20, 2003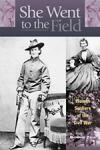 Written by an old friend Bonnie Tsui, this is a book about the unrecognised envolvement of female soldiers during the American Civil War.
I have always enjoyed her colorful writing, be it emails or recent articles in various magazines. This book is then an extra long treat. The book has grounds in her academic work but is aimed at general audience due to her lively way of writing.
You will be presented with in depth biographies as well as daily lives of soldiers during the Civil War.
Some of the featured women were in male disguise; Sarah Rosetta Wakeman (a.k.a. Private Lyons Wakeman, Union) and Sarah Emma Edmonds (a.k.a Private Frank Thompson, Union) being two. Others were participating in more traditional ways, eg like nurses or spies.
Having finished only the very first pages, bit too early for an in depth review but it will follow.
September 19, 2003
The other day I was in need of a literature fix. I browsed around in a book store but was not keen on any long novells or even longer multi book epics. In fact, I didn't even feel like reading an entire book.
That is when Best of Young British Novelists 2003 published by Granta came to my rescue. It consists of 20 short stories by young British writers that have not yet hit the main stream.
It is the third time Granta publishes stories from young novelists and previously (1983, 1993) they have been successfully in picking writers that later received worldwide fame.
What really made me like the book and finding it hard to put down was the very varied language, pace and themes between the stories.
You will be told stories about the motivations of a computer hacker, common problems between lovers (gay females this time), view of the world by an amnesiac, one week of Ph.D. research work and more. See how varied the book is :-)
If you want to pick up a fresh book and be swooped away by a new generation of writers then don't miss out on this book.
PS If you managed to understand the story The Hare by Toby Litt then please let me know.
Buy the book on Amazon.
September 18, 2003
Just have had dinner with some friends from different parts of the world and touched a topic that made me realize how your choices of movement are decided by your origins.
Coming from former communistic Czechoslovakia I have experienced repression. There was no democracy and you were not allowed to travel where you wanted. You had some limited choices of traveling to other eastern block countries but that did not quench your curiosity about the world. Books that you read had stories about adventures in Africa or Asia but those parts of the world were inaccessible to you.
Due to a brave move by my parents, I was lucky enough to move to Sweden at young age. Suddenly the world was open. I had not changed; instead my status had changed.
This is what upsets me. We are all human beings and it should be a human right to be able to travel around on mother Earth. I understand that there would be negative effects if people started immigrating to certain popular parts of the world in masses but surely locking them up in their own country is not an ideal solution.
In London I meet people from around the world. Everyone is very excited about being in London and the UK for it is such an exciting place to be but their journey here has not always been as easy as mine.
When you have freedom of movement you don't value it as much as someone who dreams of traveling.
September 18, 2003
Last week I was questioning the practices of the local police; questioning how they spent their resources (Crime in Progress). This morning a PC was knocking on my door, letting me know that they had found my stolen bicycle and needed my help to make an arrest.
I have had many cycles stolen during the last 15 years or so and never has it been even close in retrieving any of them. I assumed a stolen bicycle was lost for ever and that the police couldn't do anything about it. It was just a formality reporting it stolen to be able to claim it from an insurance company.
Imagine my surprise this morning then when a PC had taken the time coming to my place just to let me know they had recovered the bike.
I hurried to the police station, ending up at the wrong one initially. I was received by a PC in civil clothes that showed me to the bike and it became quickly apparent that it was the wrong bike. The PC was wee bit disappointed as he needed my statement to pursue arresting the individual. Oh well.
Makes me wonder. Maybe the local police had read my post about them and made a push to convince me of the opposite? Ni-ni-nini (Twilight Zone theme). Nah...
September 17, 2003
I am doing the google dance right now. My recent and home brewed SEO (search engine optimisation) has paid of. Searching for David Kaspar will put DavidKaspar.com on second place of the results.
It was a bit disappointing that a search on Google for my name returned the true resource for David Kaspar only as item 75. Not many people have the patience browsing to page 7 so being on first page is grand.
SEO became a big business when companies realized how many people use search engines to find the product or service they are interested in buying. People are working full time on placing companies high up in popular search engines like Google, AOL, Yahoo and MSN.
While the average webmaster still might believe that SEO is all about good title and some META tags, there is a lot more to it.
September 16, 2003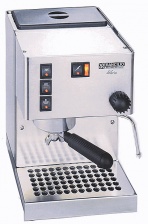 Life is too short to be drinking bad coffee and having a decent espresso machina is half the story of good coffee. The other half being of course having good beans (and knowing the lingo).
When my old Krups gave up it was time to upgrade to a big boy machina and the Rancilio Silvia had been very praised in the price class (affordable). Only one store was selling it in London so there I went. For £300 you expect a lot and Ms Silvia does not disappoint because of her heavy built, brass boiler and all stainless steel design.
Rancilio is a renowned name in the industry and this is their only consumer model. The steam power is amazing and will froth your milk very quickly. The machina consists of several large parts that are easily taken apart for cleaning.
The espresso making can be a bit tricky. It will take several runs to get any good at brewing good shots. There are several factors you will have to watch out for in order to succeed. The amount of coffee you are using, how well it is ground, how hard you pack it in the filter and what temperature you are brewing are just some.
I have sampled many different coffees like Lavazza, Illy, Blue Mountain, Segafredo and various blends from local shops. While I like the different characters of many coffees I always keep coming back to Illy. Rich aroma, little bitterness and great crema make it a favourite.
Necessary Lingo

Americano: An espresso diluted with hot water.


Barista: Espresso bartender (your goal)


Espresso/Caffe Con Panna: Espresso topped by a dollop of whipped cream.


Caffe Latte: An espresso made with steamed milk, topped by foamed milk.


Espresso/Caffe Macchiatto: An espresso with a teaspoon or two of foamed milk.


Caffe Mocha: A latte with chocolate.


Espresso/Caffe Ristretto: A short, very intense shot. With the same amount of coffee as a full shot, half the water.


Cappuccino: A shot of straight espresso with foamed milk ladled on top.


Crema: The tan-coloured foam that forms on top of an espresso shot, as a result of the brewing process. Protects the espresso from being exposed to air.


Espresso: The original one shot coffee brew. Hot water is pressed by means of a pump through ground, firmly packed coffee.


Mochaccino: A cappuccino with chocolate.
Temperature technique
Cheating Silvia
September 16, 2003
You may have come here due to your incorrect interpretation of the word booty. I just wanted to remind you that the word actually has more meanings than the one your naughty mind always associates it with.
Yes, it is a common (Afro American) slang for buttocks or casual sex but there is also an earlier meaning: Goods taken by pirates or plunder taken during time of war!
September 15, 2003

The Euro referendum in Sweden is decided. The voting ended Sunday 18 PM GMT and the votes were counted 3 hours or so later.
More than 5.4 million out of 7 million votes were cast. Over 56% of the voters said No which means that Sweden will NOT adopt the Euro (€) as its currency. The Yes backers might have been hoping for a late surge in support due to the killing of Swedish foreign minister Anna Lindh but that didn't happen.
I was at the office most of the weekend, catching up on the current project. It is behind schedule, mostly due to added complexity compared to previous projects. This application is using an XML/XSL front-end and several Open Source frameworks. Castor and Xalan being some of them. In theory it will be easier to support multiple devices and languages but we are paying a cost in development time.
I guess the better way would have been to be more organised and efficient in order not to have to come in during the weekend but that's easier said than done.
Carla is in Roma for a couple of days anyway so I was not missed at home. Well, I was a bit, Ginger likes spending the weekends with us. I will have to make it up with a run or two in the park with her during the week.
September 14, 2003
I have not seen many operas and am in no way an opera enthusiast but this piece speaks a universal language that any human being can understand. As such I would recommend it to a first time opera goer.
Funny how sorrow, despair and powerful music can make you feel alive and wanting to live.
The story is of a young Japanese girl, Cio-Cio San, which weds an American soldier, Captain Pinkerton, in Nagasaki. The tragedy is that while Cio-Cio San truly loves Captain Pinkerton, she for him is just a temporary desire that needs to be quenched. Due to Cio-Cio San fragility he nick names her Butterfly and admits "I must pursue her even though I may damage her wings".
Soon after the wedding Captain Pinkerton returns to America with empty promises of coming back to his Butterfly. She on the other hand "counts every hour of every day" during the 3 year long wait before he does come back.
When Captain Pinkerton eventually does return, it is with his new beautiful American wife and not to embrace his Butterfly that has patiently waited but to claim his son and leave Butterfly in despair.
Just when you think you have had it with sorrow and heart tearing music, the play escalates a bit and you wonder why you chose to (pay and) put your self through such sadness. The answer is to feel alive.
One advice that I have received later is to read up on an opera before going. You will then be able to fully enjoy the music and actors without having to read the English subtitles. It is not necessary to understand every word said as long as you know the plot!
Performed at the Royal Opera House, Covent garden London, UK.
September 13, 2003
This was the second time we were dining at this restaurant and I was looking forward to it since I remembered what a nice time we had had last time. It doesn't get much more French in the middle of London!
This is the most romantic restaurant in London without doubt. The light is very dim and the atmosphere is oozing of French country side. Baskets full of roses hanging down from the ceiling and farming items hanging on the walls. Cozy sofas you can disappear into.
The place is crowded and an early reservation is a must. During our meal we saw several disappointed companies that had come without reservation and were not able to get a table.
It's good to know at least a bit of French as the menu is all in the French and the staff doesn't seem to realise it's London; they speak French too. If in trouble, go for the tuna steak (thon cru), it's grand.
The menu is fairly small which makes it easier picking a dish. I prefer smaller menus full of delicacies to large manus where you have to look for something nice. The main dishes are around £15.
About the staff: they are very French. If you are lucky, and they like you, you end up being served very well and recommended food and getting extras. If on the other hand you start of wrong with them, it will probably spoil your night. You have been warned :-)
31 Ebury Street, London, SW1W 8UT (map)
Nearest Tube Station: Sloane Square
Tel: 020 7730 7763
September 12, 2003
One of Carla's best friends from Brasil is visiting us for the next 10 days. Once again we get to put on our tourist hats and venture down town London to pick some of it's many ripe offerings. Grand buildings, theaters, restaurants, museums, parks and bars are some of the things on the itinerary. Of course, the party hat is neither never far away when guests are visiting.
Washing machine fixed and that is very pleasing. The joy of clean and warm socks in the morning will be here again. How I have missed you and your humming my big, white and heavy friend.
Work has been tough the past week with long hours and frantic typing. Well, it has to be done.
September 11, 2003
Something to reflect upon:
"Give an infinite number of monkeys typewriters and they'll produce the works of Shakespeare. Unfortunately, I feel like I'm reading all the books where they didn't. I can't wait for the day when the internet makes me rejoice in its possibilities again. But right now, it's shit."
http://www.internetisshit.org/
September 10, 2003
A plasma screen is really a computer screen and thus not as easy to connect to your video units as a traditional TV. After a lot of researching and browsing and asking, below I have summarised how to do it.
Ranging from lowest quality to highest these are various video signals that a Plasma TV should handle. Since you have invested in an expensive TV you should really try to use RGB quality or above:
Aerial antenna.


Composite video. Usually one single cable with yellow connectors


S-video lead. Is usually a black lead that actually carries the video information on two separate leads.


RGB SCART. Carries the information on 3 separate leads (red, green, blue).


(Progressive) Component video. Also carries the video on 3 separate leads but has more bandwidth for the signal due to better use of colour space.


DVI. Digital video from a computer


#PAGEBREAK#
Just do it
Identify which of your video devices can do RGB out. Your digital TV, sky digital, DVD player, PlayStation 2 and Xbox should be able to do this. Your VCR will not


Get enough SCART leads that are fully wired to support RGB and connect the devices to each other, resulting in one SCART


Get the RGB to Plasma VGA converter form The Media Factory. This will convert your SCART contact to a VGA contact with correct synchronisation signal that your Plasma TV needs. Expect a cost of £125


Get a good quality VGA lead. Around £50


Connect the devices that do not support RGB with S-video or composite in the worst case


Use a cheap SCART switcher if some devices lack a second SCART socket


Theoretically you should be able to us a SCART-to-3 or 5 leads converter and plug this into your Plasma TV. The problem is that Plasma TVs require a stronger synchronisation signal than most SCART carry so even if you find a Scart-to-5-RCA lead it does not guarantee success.
#PAGEBREAK#
My case
One progressive DVD player that connects straight to the Plasmas BNC contacts. Playstation 2 via Sky and a second satellite receiver to a SCART switcher, via the above mentioned RGB to VGA converter and then to Plasmas VGA contact. Composite and S-video leads connected to a video switching amplifier for easy connecting of portable video sources, e.g. camcorder and digital camera.
Update 28/01/04
The comments are now closed. Please post any new questions in the forum.

September 10, 2003
SARCASM ON
On way to work today there was a surprise for people cycling through Kensington Gardens (London, UK). On the 100m path between a car road and a cycle path in the park, a civil police car was waiting. I saw a crime in progress, a lady cycling on her way to work, and it was swiftly dealt with by the police. The lady was stopped, pulled aside, interrogated and handed a penalty. Now this is really great, knowing that police resources are well spent.
SARCASM OFF
Another more serious crime is a retired lady that for some reason is not able to afford housing and is forced to sleep/live in a pedestrian subway. She might not have any family or friends left but she is definitely let down by a state that is not able to provide a shelter for the less fortunate.
September 09, 2003
Night shots are characterized by low light. The camera shutter needs to be open for prolonged time to get enough light for a proper exposure. The drawback is that there is risk for blurred photos if your camera is not steady enough.
One common tricky scenario is a foreground (FG) object, e.g. a person, in combination with a back ground (BG) view, e.g. a night time city sky line.
Below are some easy steps that that will let you take better night shots.
Back ground only
The shutter of the camera will need to be open for a longer time, probably 1 second or more. You will not be able to hold the camera steady enough so it is important to set down the camera on something solid. Consider getting a tripod if you want to be serious.
Just pushing the trigger may be enough to cause a blurry photo so best is to use a remote or wire trigger. If you don't have access to this you can use the self timer on your camera to take a rock solid night photo.
Tip: Try this during poorly lit conditions, like inside a restaurant. Avoiding flash results in a photo with much more realisting lightning.
Foreground subject in combination with a background
In this mode the camera will both use a flash and keep the shutter open long enough to develop the back ground. By using the flash, the FG subject will get fixed and be less sensitive to blur from a shaky camera.
After the flash has gone off, you have to try to hold the camera as steady as possible or set down the camera and use the self timer. The FG subject will also have to be steady and not move. On the other hand, you can get some cool effects if the FG subject moves while the shutter is still open.
Only foreground subject :-)
Easy, just use the normal mode of your camera. The automatic flash will go off and your subject will be properly exposed. Just watch out not to be too close otherwise there is a risk of flash over exposure.
Most modern cameras should have modes that enable you to take night shots. A moon crescent indicates night shot (BG only) and a moon crescent with a person icon indicates FG and BG night shot.
On my older SLR, night shots were achieved by enabling slow synch on the flash (and possibly rear synch).
September 08, 2003
Congratulation Mr. and Mrs. Hancka to a beautiful wedding and thank you for having us. We are all wishing you the best in the future!
Now I REALLY know what polish weddings are like: very happy (vodka) and intense (vodka).
See photos...
Zakopane is a gorgeous mountain town in the South of Poland. It attracts many tourists and their money and the area is in great shape. I suspect it's mainly a skiing resort but well worth visiting in absence of snow due to activities like hiking and mountain biking (and weddings).
There are also plenty of opportunities for shoppa-holics to pick up hand crafted items from amber, wood and fur.
The ceremony was held in a wooden church and the polish prayers sounded charming. Some Polish traditions included picking up pennies from the ground for good luck.
Main event for all the guests was not the kissing at the altar but the party that followed, of course. It was a 10 hour marathon of drinking, eating, dancing and drinking some more.
One such game was a crazy spinning dance. Two persons locked their arms at their elbows and started spinning around. Hectic music was played and bystanders were clapping cheerfully. This dance ended in on of two scenarios. Either one of the person lost hold of the other and projectiled into the bystanders or a wall; or the couple lost control and, while still spinning, crashed into bystanders. In either case great fun.
The mix of people was very lovely, mainly from Poland and Sweden. Everybody was able to communicate in one way or another, be it gestures or some common language (Russian or German). The Vodka was literarily flowing. As soon as a bottle was finished it was swiftly replaced with a full one by the staff.
The dinner was stretched out over a long period with many courses and games and dancing in between. The humble menu consisted of:
strong mulled wine as starter


melted local smoked cheese with lingon berry sauce


chicken noodle soup


chicken fillets and pork roulade with plums rolled in bacon


ice-cream and marzipan desert


massive buffet with local cheese, sausages, bread, salad you name it.


whole roasted wild boar and pig with rice


wedding cake


night snack: borsch, bacon and cabbage soup, pirogues
On the way back we had a stop over in the nearby town Krakow. Due to some after-wedding-party related complications we did not arrive much before dusk. We rushed through the Old Town equipped with our camera but there was in no way time enough to see all this town has to offer. A promise was made, to return at a later date and do Krakow properly.
September 04, 2003
This blog needs the following (and some):
New graphical layout (php includes)


Provide link to Google translation for ge, fr, it, pt. See Taran :-)


No pop-up for comments. Use same page as individual entry


List of notable entries, prolly drop down


Drop downs for date and category archive


Recent comments, users and names and article names on main page


Obscure email addresses (mt feature actually)


Random photo on first page


add personal info (cv, biography). Me not like blogs without this


add contact form (email form, mobile)


List Archive by categories


Remove links that open in new window


Develop small application that recognises visitors by their IP and presents personal message


Check for Google search term in referal and recomend article


Use redirection via local file for external links (anti-spam meassure)


September 04, 2003
After stepping on my HBH-60 blue tooth mobile hands free, I had to look for a new one. I had been very pleased with the HBH-60 but a new product was on the market, a new version of HBH0-30, the HBH-35.

| | |
| --- | --- |
| | |
| HBH-35 | HBH-60 |
The most obvious reason is the size. The HBH-35 is considerably larger and is more visible when worn. This is not all bad because the boom microphone is closer to your mouth so there is a chance the sound quality is better. I have not confirmed this with the receiving part though.
They (Sony Ericsson) have also managed to fit in larger and replaceable batteries. Reported stand by time is 135hrs and talk time 5hrs. This is almost double compared to the HBH-60.
The operation of both pieces is very similar. There are two volume buttons, up and down, and a main operation button. Push it once and the hands free will connect to your phone, you'll hear a beep when it's done. Then you can say the name of the person to call to, another beep to confirm, and then the type of number (work, home etc). If the phone did not recognize the contact you want, you will get a second chance, and a third. Push the operation button again to hang up a call. Some other cool voice activated functions are redial, answer a call and record memo.
The range is supposed to be up to 10m but with both devices, I found them to work best within 2m.

HBH-35
HBH-60

Longer battery life
better sound quality
cheaper







Update 14/09/03
After 2 weeks of using the HBH-35 I can say I use it less than I used the HBH-60 due to the bulkiness of 35.
I guess this means that the longer battery life isn't really a deciding advantage.
The longer boom mike does not seem to have improved sound quality because my phone still has problems recognizing voice commands when in loud surroundings.
September 03, 2003
What is up with all the scam letters lately? The ones that claim you have won a large sum of money or a luxurious holiday.
Yesterday Carla received a new one. It pretended to be a parcel notice from Canada so I opened it. "You have won a Sony digital camera worth £599 or another item. Just send in £25 processing fee and £5 administration fee and you will receive your digital camera or another item.
The letters are always very elaborate and have all sorts of fake certifications. Obviously money is spent on them, they keep coming back so I guess somebody actually is managing to trick people.
I have not seen this kind of effort to lure money from people before moving to the UK. This makes me think that
The privacy of a private person and their home is not valued much since there are loop holes in the law to allow this
Some companies have no code of honor. How can you possibly live with your self if being in charge of such business?
I just registered my self with the Mail Preference Service. A service that marketing companies can join and then make sure to delete details of people who have registered with MPS. The problem is that there is a cost to companies to join so what incentive is there for them? Next I'll be forwarding scam letters to the Trading Standards Authority.
September 02, 2003






(En route)
September 01, 2003 Just been getting a coffee from local Cafe Nero and the
barista
serving me was so keen on serving the two ladies behind me he:
Forgot to charge me. I had to remind him after he was done with the ladies.
Messed up my order. Served me regular instead of Grande.
Forgot to stamp my loyalty card. I had to stretch over the counter and stamp it while he was busy chatting up one of the ladies.
The moral of the story? I am a loyal person who is satisfied with less and too honest his own financial good.
September 01, 2003

Did you know that social and biological information about you can be picked up from your motion pattern? That is, the way you are walking reflects your biological set-up (heavy, female, etc) and your emotional state (sad, nervous, etc).
The people at the psychology department at Ruhr-University-Bochum have developed a simple computer model where you can alter some basic parameters to control the characteristics of human walking. They call the demo BMLWalker. I bet that you will subconsciously be able to recognize the emotional states of the walking stick but not be sure how and why.
Me: Male, heavy, relaxed, happy :-) Make sure you turn on lines and try rotating the figure for better view.
Read more about Gait Recognition and it's possible use in airport security.
(You need flash player 5.0 for the demo)
[Listening to: Just The Way Im Feeling -
Feeder
- Comfort in Sound (04:22)]