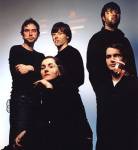 The good news is that you have just stumbled upon a futuristic and gripping concept album 'Nanoalbum' by the group 'Tatabojs'. The bad news is that it is in Czech and you may have a hard time following the fascinating story line.
The story is set in the future and narrated by the robodog HAL9000. He will introduce the listeners to the concepts of nanotechnology, nanogamy and nanopilots. HAL9000 will also talk passionately about his owner iTom who has embraced technology and iTom's sweetheart Elisabeth who is iTom's complete opposite: a technophobic. A schizophrenic professor Dot, his assistant 90-60-90 and the C.V.A.N. (centrum for research and application of nanogamy) complete the cast.
Tatabojs sound is a mix of melodic rock a la U2, a splash of The Cure and a dash of Radiohead. Songs like 'Virtual Duet' and 'To Elisabeth' have become instant hits on radio due to their pop like, upbeat sound. I prefer some of the harder, darker songs like 'The healer' (Lécitel) and 'Ill' (Nemocná).
Nanoalbum is however not about single songs. Instead it is about the change in pace and mood between it's songs and the complete story it tells. A story that can only be described as an utopian novel and from which I get goose bumps while listening to it over and over.
My cousin Rudolf made me aware of this album and it has sparked an interest in me for more local music; be it Czech, Swedish or London underground. A music genre I have neglected just because it's not playing on MTV.