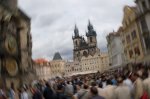 So the word on the street was that Louis Vuitton is to celebrate his birthday on the Charles Bridge and have it closed for two days for a measly €40k.
The word was also that Madonna is to perform for him.
Whether this is true or just an urban myth we did not find out but we managed to have a great long weekend away in Prague nevertheless.
The reason for our trip was twofold. We wanted to introduce our son to my Czech family and my wife was craving her yearly Prague fix.
The introduction went very well, everyone got a squeeze or two and Dominick enjoyed his stay at Residence Nosticova very much.
The experience was unfortunately a tad bittersweet because of my auntie being very ill at the moment. We are hoping for a speedy recovery.
My wife has been yearly to Prague since 1996. She knows central Prague very well from her many walks and Mala Strana (Lesser Quarter) is the focal point of her Prague obsession.


For her a trip to Prague would not be the same without a stay at the tiny boutique hotel Residence Nosticova.
Positioned in the heart of Mala Strana, on the right side of the river Vltava to avoid drunk party goers, it is a little gem of comfort.
We have viewed all the rooms at Residence Nosticova and the Arcimboldo room is by far the prettiest standard suite for 2 people. If you book it next time we were planning to go, we will
Prices vary somewhat during the year but at the special price of €150/night, Residence Nosticova is good value for the luxury and service you get.
That is if you manage to avoid raiding the mini-bar like *somebody* did several nights in a row.
[As always there are photos from Prague 2006]