Recently I tried transferring a .co.uk domain that I owned to another NameCheap user.
The internal transfer of NameCheap domains is usually easy and instant but this time the other user was complaining that the transfer was failing. The error page suggested a few missing details in the user's contact details: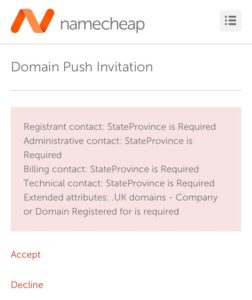 Fixing the missing State was easy enough but we couldn't find extended attributes so we just tried again and got this: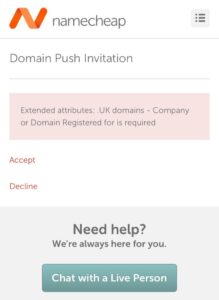 The exact error was "Extended Attributes: .UK domains – Company or Domain Registered for is required".
NameCheap allows adding Extended attributes to various regional domains in "Profile > Tools > Domain Contacts Presets > Alternative Domain Contacts".
However .UK is not one of them. There was no way for the receiving user to be complaint for a .UK domain.
After a few chats with the very responsive NameCheap Live Support the root cause became clear and a workaround was suggested.
First the initiating party had to cancel the domain transfer request.
Then rather than using the usually recommended "new user's contact details" during the transfer, we had to use "existing contact details". This allowed the transfer.
Then once the transfer was successful the user changed all details to theirs… including the "Company or Domain Registered for".
You may be tempted to leave the contact details with the old information but I recommend against this to avoid confusion of ownership… and perhaps breaching .UK domain registration rules.
I wish NameCheap would enhance their Alternative Domain Contacts functionality by adding options for .UK domains!