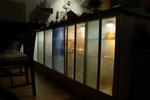 See and behold, one bastard of cupboards. The frame is from the IKEA bathroom selection, the sliding doors are from the kitchen collection and the feet, plinth and lights are from various other collections.
We were in need of 3 new cupboard units at home. The soon arrival of our baby is one reason but the always increasing amount of gadgets was another one.
Our first impulse was to hire some cunning craftsmen that would conjure up our new storage solution.
Four quotes later however, the highest quote was a pound above £3k and a whole lot above our budget. The drawings from that particular carpenter were great but the total sum was not.
Being the creative money saver my wife is, she started browsing the 2005 IKEA catalog ferociously. By combining furniture parts from different areas, she was able to come up with a combination of units that fitted our measures.
The total sum of shopping was around £500 and this included all kinds of IKEA goodies like plants, carpets, baskets, Swedish food and more boxes.
Besides my sweat and blood, the assembling required many more power tools than the default IKEA hexagonal key. Electrical drill and screw driver, wood saw, iron saw, hammer and wood glue just to mention a few of them.
It got me thinking that there might be a market for Custom IKEA-TM jobs. It would combine the affordability of IKEA furniture with the individuality of hand made furniture.
The customer and the installer would split the difference in price between the IKEA shopping and original quote from a carpenter.
yours sincerely,
The IKEA Boy.