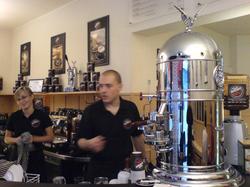 Let me tell you where to currently get the best espresso coffee in London: at the small Caffé Vergnano 1882 on 62 Charing Cross Road, London.
I was lured in by a sign saying "voted best coffee shop in London 2005" but did not have any expectations. Yet another publicist trick I thought.
The caffé is fairly small. Just a few tables and two bars along the window and the wall. When I visited there were three staff working and they were skilled and very efficient.
First thing you notice when you enter the shop however is the massive Elektra Bell Epoque Q1-C espresso machine.
On a note on the wall you find out that these machines are hand made and only a few (10?) are made each year. The Vergnano coffee company elects each year a European Vergnano coffee shop and lend them one of these "Rolls-Royces" of espresso machines. This is the first time ever a London shop has had the honour.
I ordered a double macchiato which was brewed very well. Good temperature, excellent taste and no bitterness nor sourness. The barista even made a perfect rosetta on top of the coffee, effortlessly.
Each coffee is served on a tray with accompanying glass of water. Do it right and have the water before the coffee to clean your palate.
All the coffee machines, grinders, tables (and staff) are so clean and sparkling that you could almost make the mistake and think that the shop is closing or closed. This is however another sign of perfection and that coffee making is taken very seriously in here.
The coffee experience was so good and such a surprise that I had to have a second double macchiato just to assure my self that it had been for real.
Getting there: get off at Leicester Square tube station. Walk North along Charing cross road. The café is on the left side, just a few blocks up.