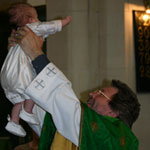 Friends and family, we thank you for attending the christening of our son.
The event was wonderful and emotional and will forever be remembered.
The Godparents outperformed themselves but we did not expect anything less from them. The highlight was the Godfather getting his speech just seconds before holding it in front of the congregation.
As always a grand reception had been planned by my wife. This time it was in the Winter Garden of the Landmark Hotel.
It had been a hot day and the non-stop serving of well chilled Taittinger champagne was appreciated by all.
Don't be looking for me the next 7 days as the whole family is away in Scotland visiting grand castles and small distilleries.