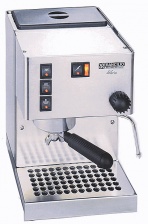 Life is too short to be drinking bad coffee and having a decent espresso machina is half the story of good coffee. The other half being of course having good beans (and knowing the lingo).
When my old Krups gave up it was time to upgrade to a big boy machina and the Rancilio Silvia had been very praised in the price class (affordable). Only one store was selling it in London so there I went. For £300 you expect a lot and Ms Silvia does not disappoint because of her heavy built, brass boiler and all stainless steel design.
Rancilio is a renowned name in the industry and this is their only consumer model. The steam power is amazing and will froth your milk very quickly. The machina consists of several large parts that are easily taken apart for cleaning.
The espresso making can be a bit tricky. It will take several runs to get any good at brewing good shots. There are several factors you will have to watch out for in order to succeed. The amount of coffee you are using, how well it is ground, how hard you pack it in the filter and what temperature you are brewing are just some.
I have sampled many different coffees like Lavazza, Illy, Blue Mountain, Segafredo and various blends from local shops. While I like the different characters of many coffees I always keep coming back to Illy. Rich aroma, little bitterness and great crema make it a favourite.
Necessary Lingo
Americano: An espresso diluted with hot water.
Barista: Espresso bartender (your goal)
Espresso/Caffe Con Panna: Espresso topped by a dollop of whipped cream.
Caffe Latte: An espresso made with steamed milk, topped by foamed milk.
Espresso/Caffe Macchiatto: An espresso with a teaspoon or two of foamed milk.
Caffe Mocha: A latte with chocolate.
Espresso/Caffe Ristretto: A short, very intense shot. With the same amount of coffee as a full shot, half the water.
Cappuccino: A shot of straight espresso with foamed milk ladled on top.
Crema: The tan-coloured foam that forms on top of an espresso shot, as a result of the brewing process. Protects the espresso from being exposed to air.
Espresso: The original one shot coffee brew. Hot water is pressed by means of a pump through ground, firmly packed coffee.
Mochaccino: A cappuccino with chocolate.