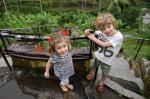 We just completed what I believe to be our first adventure with our kids; a trip to Bali, Indonesia.
Our children are 4 and 3 years old and we were contemplating whether they would be able to handle the 17+ hours long *day* flight and the culture shock.
I'm glad to report that it all went spectacularly well and our children have memories for a life time.
We started out in Ubud which is a wonderful place busting with culture, music and art craft.
While the Mrs enjoyed browsing the markets and shops the kids were much more keen on excursions. Luckily there are a lot of activities in and around Ubud that are just a short drive away.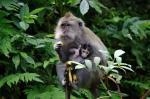 Monkey Forest is a little pathway in the local forest which is filled with curious and cheeky monkeys.
You can buy a bunch of bananas by the entrance to give to the monkeys but watch out, once they get a whiff of the fact that you are carrying their favourite dish, they will not leave you alone until they have robbed them all.
Out of 50+ friendly monkeys there was one that hissed at our daughter but we just moved on swiftly and didn't have any further problems.
The elephant safari park is just an hour away and while outrageously expensive ($100 for the four of us) the kids loved the elephant ride and feeding the elephants.
To be honest you can give the 20 minute elephant ride a miss and just enjoy the elephant park.
Favourite restaurant: Cafe Lotus and Wayan Cafe
Favourite stay: Kori Ubud
After a few hectic days in Ubud we decided to relax at the beach for the rest of the holiday.
Out of all the various beach locations in Bali like Kuta, Seminyak, Legian, Nusa Dua and Sanur we opted for Sanur. Crowded with retired ex-pats and families with young children, Sanur seemed like the perfect spot.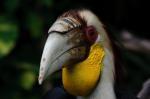 Half-way between Ubud and Sanur is the lovely bird park. Walk around the aviary and see that many, many colorful birds up and close.
The kids loved discovering all the different bird species (from tiny to large) but the highlight was when 3 birds were placed on each of them. Great photos in the park btw!
Sanur is a very laid back town with the usual tourist shops, bars and restaurants but no chaos (like in Kuta). You get the occasional guy on the street calling "taxi?" at you but nothing intense.
We had such a great time in Ubud doing daily excursion we decided to continue with the theme.
First day out was a busy day with Uluwatu temple, white beach and water sports at Nusa Dua, Dreamland Beach and food at Jimbaran (no sunset).
Just a sad word about Dreamland Beach; it is totally wrecked. Car parks, sewage like water, hordes of "local" tourists and an abandoned concrete construction. Give it a miss!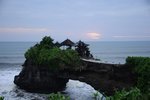 Going north turned out to be a much better direction. More rice fields, temples like Tanah Lot and Batukaru, lake Bedugul and hot springs. All in all some of the best sights Bali has to offer.
Waterbom is a water park in Kuta. Again it is a very expensive experience compared to other less touristy activities in Bali but it is a wonderful break in pace for the kids.
We spent a whole day swimming, running around and sliding down various slides. The kids loved it and it's needless to say they fell asleep early and hard.
Favourite place: Tanah Lot
Favourite stay: Tandjung Sari
Favourite restaurant: Tandjung Sari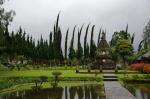 In summary Bali turned out to be a great beach and sightseeing holiday with the children. The combination of Balinese culture, nature, people and great value was just unbeatable.
DO IT!
PS Wayan, Made, Nyoman and Ketut are Balinese names where Wayan is the first born, Made the second and so on. If you want to get some laughs and instant acceptance from local people call your kids Wayan and Made and watch their sweet reactions.