« September 2006 | Main | November 2006 »
October 23, 2006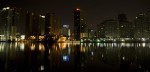 A short stay in Miami to visit some friends, do a few work engagements but mainly to suck up the atmosphere in the "sexiest city on Earth".
Shortly after our landing, we were again pleasantly surprised by how friendly the staff and local people are in the US.
While living in London you get used to having to beg to spend money on a service but in the US everyone greets you with a smile, inquires on how you are doing and maybe even adds a bit of gossip.
It is easy to get used to this politeness and friendliness.
This is also our son's first long haul flight. The flight went well because it was during his sleeping hours so he slept most of it.
What I was worried about was any symptoms baby jet-lag.
For a while we thought that our baby boy would manage the time adjustment just by sleeping longer.
This was not to be because he woke up at 2:30 am and was certain that it was 7:30. Eyes wide open and ready for another day full of achievements: play, feed; poop and sleep (in that order).
The dawn at the Brickell Key was followed by a sunrise that exploded with colours and hues. It made it almost worth it having to get up at 2:30 am.
Location: 25°45'56.55"N, 80°11'5.97"W
October 19, 2006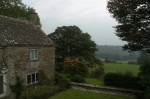 Our good friend from This Ordinary Life was turning 30 the other day.
To celebrate this sad joyous event he and his wife had organised a wonderful weekend away in the Cotswald area for 14 people.
They found a charming cottage in Far Oakridge which together with the adjacent stable cottage comfortably fitted 14 guests.
From the outside the cottage looks very charming and authentic with it's thick stone walls and low ceiling. On the inside however you'll find all the modern conveniences you'll want for a comfortable weekend away.
Fully equipped kitchen, power showers, central heating, multiple fire places, BBQ, games, books, flat screen TVs, DVD players, hifi and much, much more. Even a large trampoline in the garden which should have a warning sign "not to be used while intoxicated".
Some of the available activities in the area are horse back riding, hiking, clay pigeon shooting and village exploring. Naturally me and the boys chose the shooting.

While the other guests were mainly couples, our little family turned up in full force: mom, dad, baby boy and two hairy beasts.
To our relief everyone had a great time socialising with the little one and getting the occasional lick from the hairy ones.
Once the baby boy was sleeping soundly, shortly after 8 pm, there was time for celebration dinner and drinking games until 3 am.
The next day the others had the pleasure of sleeping in until lunch time but we had to be up by 6 am to again start pleasing the youngling.
All in all a fabulous weekend away despite a few (canine) accidents in the back of the car.
Every time I get away from London I try to cherish every ounce of fresh air and every bit of peace and quite.
The English country side truly is a feast for the eyes.
October 12, 2006
...said the Disney Co-Chair Anne Sweeney at the Mipcom festival.
I find this quite a refreshing statement compared to the standard RIAA/MIAA stance. They keep insisting on theft, crime, punishment and so on which only seems to create more piracy and distance the customers.
Maybe a better approach would be to compete with piracy in quality, availability and price.
Let's have a look at what that might look like.
Quality
Pirated content is often using the latest video and audio compression. This results in a 90 minute movie in DVD quality being below 800MB, often with 5.1 channels audio and optional subtitles.
With TV shows, the pirated content can often be in high definition if the source was HDTV as well.
It will be hard for a legitimate service to compete in terms of quality. The target should be to at least match the quality of pirated content.
The biggest issue for legitimate content providers will be how to apply copy protection without reducing the quality of the content.
The current digital rights management (DRM) solutions are very restrictive and result in the user renting content instead of purchasing and owning (see an anlysis of Amazon Unboxed).
I for one would accept an invisible/discreet and user specific watermarking but I can not accept DRM solutions where I cannot use the content on any device I choose or where the content can become unusable after a certain amount of time or if the original provider, God forbid, goes out of business.
Availability
TV shows are available as pirated content a few hours after their first official broadcast. DVDs are available as pirated content just a day after their official release.
This is especially valuable to potential customers from regions where the broadcast or DVD release is delayed by up to a year due to region restrictions.
Legitimate content could become superior to a pirated version by being available at the same time as the broadcast/DVD release or even better, a symbolical amount earlier.
Having one single reliable and secure location (shop) to get legitimate content is a great advantage instead of searching various more or less obscure areas of the Internet.
Price
Here pirated content clearly has an advantage by being for free which is a difficult price level to compete with.
A few online services have however shown that users are willing to pay for content if the other criteria above are met.
Paying the same amount (or more) as for the physical version of the content just doesn't make sense to the end user.
Especially since the digital version is often crippled by various digital rights managements solutions decreasing the perceived quality and thus value.
The controversial MP3 online store AllOfMp3 has a very low price point ($0.20/song, $2/album) and while their prices may be unrealistic for other service it should be noted that user are willing to pay!
Conclusion
Summarising the options above one must admit that at the moment it looks a bit bleak for legitimate digital content.
October 05, 2006

Sorry about the title but if Carlsberg can get away with it without being lynched, maybe I can too!
The missus was away for 3 days and I was in sole charge (nanny term) of our baby boy.
For the last 5 months it has been the missus solely getting up first 6 times then 4 and now 1 to 3 times a night.
My biggest issue has been just rolling over and managing to fall asleep again as soon as possible.
So my feelings were mixed when I was told I was to command the ship for a few days and nights.
On one hand I was anxious to see whether I would be able to manage by my self and especially curious just how bad the nights would be - there are torture methods based on sleep deprivation you know.
On the other hand I was well worried that the experience would be simply overwhelming and that I would break down.
To my aid was our nanny which is here 8 to 5 and so takes the heat most of the day while I was away at work.
I am glad to report that I am still here and it all went mostly well.
The wake up calls in the middle of the night required just a cuddle or repositioning of the soother - 20 minutes all in all.
Also once the baby boy was in bed by 7 pm there was still time for pizza, beer and a Playstation2 session!