July 01, 2008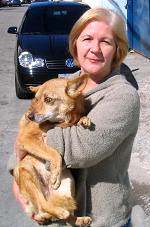 Do you love animals and are you thinking about a different way to make a difference?
Do you feel disgusted, angry and heartbroken to see a suffering animal?
Would you rather want to make a difference and truly help out?
This is a remarkable story of an ordinary working mother that all by herself changed the fate of over 150 dogs left to die. This during 16 years of love, dedication and hard work.
If nothing else, it will at least warm your heart to hear it.
Very different from the reality in the UK, abandoned animals in the streets of Sao Paulo, Brazil are numberless. They are living in the most deprived conditions and are suffering from chronic (but often preventable) diseases and starvation.
Most of the abandoned animals are at first perfectly healthy but it is just a matter of time before they are victims of cruelty, disease or fatal accidents in the mad traffic.
For these unfortunate (hairy) souls, there is little to nothing available in the governmental system that could help them. Instead they rely solely on the pity of animal loving individuals.
That is a bit how Ines Sanches, an ordinary working mother of 55 years, started on her path of helping suffering animals in the city.
Living in a busy part of Sao Paulo, she was walking home one evening when a shrieking sound made her head turn: a passing car had hit a young dog with full force. She rushed to the scene, only to hear from the dog owner himself that he had no means to help the poor animal, and that he was going to leave it there to die.
Appalled by the cruelty and disregard, Ines did not think clearly and took the injured dog home. This despite her own busy life full of problems and lack of funds and space.
She named the badly injured dog Madona and against all odds, with time and proper care, Madona made a remarkable recovery. Little did Ines know, that that event would change her life forever.
Madona turned out to be a fantastic companion to all the family. Lifting up the spirits of the household when they most needed it. She turned their lives around with her gaiety, contentment and recognition that in a way, Ines had saved her life.
From that moment on, Ines realized that she simply could not turn her back on the agony of the animals abandoned or injured in the streets of Sao Paulo and despite her own difficulties, she decided to do something about it.
Ines started by taking the suffering animals into her own house, nurturing them, caring for their wounds and diseases and then putting them up for adoption.
Quickly Ines realised that she needed a bigger site to accommodate the dogs while they were getting well enough to be ready for adoption.
16 years has now elapsed since Madona had been left to die on the road and today Ines and a team of volunteers care for 150 dogs collected from the streets of the city in a purposed build kennel, funded solely by the charity of friends, family and passionate dog lovers.
Although this may seem basic compared to the UK initiatives such as the Dog's Trust, Battersea Dogs Home and the RSPCA, I can't stress enough how major this is for the cruel reality of Brazil.
Ines' initiative stands out for the longevity and professionalism. Her dedication to the project has overcome many difficulties in the last decade and despite the total lack of sustainable funding by the government, she has managed to secure a loving home and a much brighter future for the animals she has rescued.
As a fellow Brazilian dog lover, it makes me terribly proud to see what Ines has build up over the years. Facing the related financial challenges is very unique.
I know that many of you already have a continuous commitment to various charities which is maybe why I dare to ask if you can honour this amazing initiative with a donation. After all we are talking about changing the dark fate of suffering animals in one of the most violent and ruthless towns in South America (yes, my home town).
David has created this post to enable non-Brazilian residents to make a donation via paypal. We will collect all donations received and forward them to the Batalha Animal latest appeal (translated on the page) with a note from all of you.
If you have donated then thank you so much for helping, please feel free to share the story with other dog lovers you may know. We truly appreciate it!
If you are not able to donate than thank you for reading this far and please mention a word about Batalha Animal to your friends next time you have the chance.
Batalha Animal cares today for 150 dogs in a beautiful site with 5000 square meters. Batalha Animal has a live website with photos where they keep the interested parties and patrons informed on the use of the resources and on the development of the pets they care for.
For more info, lots of pictures, news and developments, here is the link to their local website:
www.batalhaanimal.com.br
Carla
October 22, 2005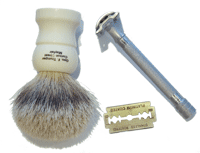 Last months announcement of a five blade razor prompted me to write about a much better alternative. A shave that is cheaper, closer and with less risk for razor burns or ingrown hair: the old fashioned wet shaving.
I used to be the ideal mass consumer. My deodorant, shaving cream and after shave all smelled the same and I was happily buying into the latest razor blade on the market. I could not resist names like 'Turbo', 'Speed' and 'Mega'; especially when put together.
This meant that I had to buy a new razor every 6 months. Of course that the cartridges for the old razor were not compatible but I just assumed that this was the price I had to pay to be using the latest and the best.
Boy was I wrong. After reading an article about old fashioned wet shaving and trying it out, I have been converted. The old bi-daily scraping has been replaced with daily wet shaving. If you are suffering from razor burns and/or ingrown hair, you have to give it a try.
There are three main components in a gratifying shave: a badger brush, a double edged safety razor and high quality shaving cream.
The badger brush will bring the most important change. It lifts up your beard and massages the skin to make it softer by using the brush in a circular motion
A natural badger brush traps a large amount of water which is then transferred to your face. Put some shaving cream in your palm and lather it up by making a circular motion with the brush.
Authentic badger brushes are quite costly. Go for the smallest size you can afford. Just make sure it's badger.
Traditional shaving soap is very rich and enables the blade to slide easily across your skin. It is made from natural ingredients which means you will not get it in 'Turbo Mint' but instead in coconut, violet or traditional sandal wood. Expect to pay around £13.50 for a large tub that will last more than 6 months.
The safety razor is a bit tricky to start with. You will not be able to shave with the famous ear-to-ear stroke seen in commercials. Instead you will be using many small and light strokes. Since there is only one blade the shaving angle is important but does not take long to get used to.
Double edged razor blades are very affordable. A pack of 10 best quality blades is £2.50 which means you can change them more often than those more-expensive-than-gold cartridges. Each blade has two edges so it's almost like a two blade cartridge. By having two edges you don't have to rinse the razor as often. Purely genious!
Don't splash any alcohol based products on your newly shaved skin. It has just been exfoliated by the shave and is very sensitive. Instead use a after shave moisturiseror or even better some Skin Food. It moisturizes the skin (non-greasy) and makes it amazingly elastic.
Shopping list:
----------------
Shaving brush - badger: £60 ($106)
Shaving cream: £13.50 ($24)
Safety razor: £25 + £2.50 ($48)
Skin food: £10 ($17)
I get my gear from the traditional English Geo. F. Trumper. They even have an online shop.
Hopefully you have a barber shop not too far away from you too.
P.S: Here is The Onion's comment on a five blade razor.
October 13, 2004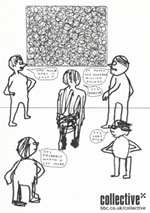 This one made me laugh the other night. Might have been because it was after several vodka cocktails.
Make sure to visit the BCC Collective for more of David Shrigley's and other good art...

October 04, 2004

A friend recently moved to London. Once again I was reminded about the basic things that are so difficult to accomplish once relocated to London.
Having a bank account is the main thing to arrange to be able to live and work in the capital. While some people manage to get by with cash only, I would not recommend it.
Banks in other countries I have lived in are very keen to secure new customers. They often give new customers perks just to sign up for a new current or savings account. In the UK it seems to be the opposite.
The process to open a current account is so complicated, many people fail trying. Among other countless things you need to provide is an utility bill (electricity, gas, phone, etc) to prove your identity and address. This may seem reasonable until you realise you need a 3-6 months of bank statements to be able to register with an utility company.
Another requirement in order to get a current account is having a monthly salary going in. Since most employers require you having a bank account to put your salary in you have to beg persuade one of them (the bank or the employer) to make an exception from standard protocol.
The thing that seems to work best, regarding bank accounts, is having a lump sum of money to deposit. Having £1,000-2,000 in cash greatly helps to get a bank account quickly but should that really be necessary in a developed country like the UK?
Update 10/11/20
The amount of cash that you are able to deposit into your account without providing evidence where you generated it has just been lowered considerably. It is supposed to be a money laundering deterrent.
A manager I talked to was not able to disclose the exact sum, not even in loose terms but it seems to be below US$100.
Funny thing is that the big fish criminals do not deposit money in their local branch. They just wire it from or to their off-shore accounts. It is average Joe customers, exchange students and tourists that will be affected the most.
An interesting incident below:
July 29, 2004
The last 4 years I have been struggling to motivate my self and to find the time to go to the gym.
Last 6 months I have finally enjoyed regular visits and it was down to several key issues that needed to be solved. If you also have the gym urge but never seem to find time, try the advice the below.
The gym needs to be near your home or your office. Maximum a 10 minute walk/cycle/drive away.
Get a locker at the gym where you can keep some of the things necessary for your work out that don't need washing. Running shoes, swimming trunks/goggles, boxing gloves and "cleaning products" are good candidates. Not having to lug these things back and forward will make the session more spontaneous.
Start with short and regular work-outs instead of monster passes every now and then. Once you are comfortable with the regular sessions, you can start increasing the length of the work out. A good start would be 30 minutes (not including shower and change).
Find an aerobic exercise that distracts you from the fact that you are working out. It may be boxing on a bag, reading while cycling or catching the latest movie while working the treadmill.
Force your self to put things aside when the time for work out arrives. Don't fall into the trap of telling your self that you have too much to do and cannot go to the gym. Everything will be where you left it when you come back one hour later; you will however be refreshed. Often I find solutions or different approaches to problems while working out.
You will sleep better. You will get stronger and have more stamina. You will get a better posture. You will loose weight. You could lower your cholesterol. The gym is your friend.
October 28, 2003
After installing central heating and re-opening the fireplace, we will not be needing this fella anymore. It is almost new, used less than 30 times.
This 3kW Delonghi oil-filled radiator offers you warmth quickly and effectively thanks to its large surface area. With 7 heat settings, thermostat and frost protection. For complete portability the radiator is on wheels. H64.5 x W68 x D24.5cm.
Features:
Large surface area to transfer heat
Low surface temperature
24 hour timer
Extra fast warm up
High speed convection
New price £130 (eg JohnLewis), our price: £75
UPDATE: SOLD
October 08, 2003
I bet you have been asking your self this very question a few times. Carla's late grandfather once told the reason and it has stuck with me ever since.
You see, a long, long time ago there was a dog party being held and it was one grand party. If you were any kind of quality dog you had to be there. The party was so popular, in fact all the world's dogs were there.
The dogs hung their tails in the cloak room as soon as their entered the party because this was a party with style. They received numbered tickets to properly identify their tails.
The party was lavish and there was a lot of dancing and sausage eating. One big fat female dog was barking with a smooth voice.
Suddenly panic broke out because a fire had started in the basement of the mansion. All the dogs were frantically running around and rushing for the exit. There was no time for searching for the right tail; each dog grabbed first tail available and hurried on out.
And this is why to this very day dogs still are looking for their own tail. Every time they meet a new dog they first check whether this tail could be their old misplaced one.
September 22, 2003
Back in 1998 I was tempted (lured) by an investment form that promised a tax free return. By paying a small percentage each year, when I later chose to cash in it would be tax free.
There was a choice of switching between funds and it seemed reasonable to get an average annual return of 10%.
Then the problems started. Being 1998 I invested mostly in tech funds. Fast-forward to 2003 and only 30% of my investment remains.
When I called my fund manager to see what the status was I was explained that not only had the fund decreased in value due to bad world economy (fair enough) but that there is also a minimum fee that I am paying each year to the fund manager. This irrespectively of whether the fund has positive or negative track record (not fair enough).
Even worse, because my humble investment had decreased a lot in value, the minimum annual fee was around 10% of my investment and increasing. When I questioned whether this was reasonable, that the fund needed an annual return of 10% in order for me not to loose any money, I was told a confident yes.
I disagree and will be taking out any pennies left and rather spend them on lollipops and bubble gums.
On the other hand, Kina is an upcoming investment possibility.
September 16, 2003
You may have come here due to your incorrect interpretation of the word booty. I just wanted to remind you that the word actually has more meanings than the one your naughty mind always associates it with.
Yes, it is a common (Afro American) slang for buttocks or casual sex but there is also an earlier meaning: Goods taken by pirates or plunder taken during time of war!
September 03, 2003
What is up with all the scam letters lately? The ones that claim you have won a large sum of money or a luxurious holiday.
Yesterday Carla received a new one. It pretended to be a parcel notice from Canada so I opened it. "You have won a Sony digital camera worth £599 or another item. Just send in £25 processing fee and £5 administration fee and you will receive your digital camera or another item.
August 19, 2003
What a bad start to the day. I saw a 70+ year old camel toe on my way to work.
Makes me wonder; is the camel toe wearing person not aware of the "fashion" feature or is it intentional? I would guess the former for an elderly person and the later for a younger female.
Personal note: what is the name for the male version of a camel toe?
June 19, 2003
Your transaction has been completed, and a receipt for your donation has been emailed to you. You may log into your account at www.paypal.com to view details of this transaction.
Your donation will help me fund booze, hookers and weed.
Just kidding, it is solely to help fund hosting costs.
David Kaspar.