June 29, 2007
Type in 0870 or 0871 in a search engine and you'll see loads of advertisements for companies that provide this "service". They all promise revenues of 4, 5 or 6p per minute.
This revenue is generated by charging the caller and sharing the profits between the number provider and the company being called.
The costs are often disguised because the numbers are presented as national rate or sometimes even local call charges.
The fact is that these numbers are very seldom (never?) included in any free minutes nor in any discounted calling plans.
While there has been a trend of cheaper and cheaper calling to regular regional and mobile numbers these new 0870/0871 numbers bring back calling chargers to the level of 1995.
I could be called conspirational if I claimed that it must be the phone operators behind the idea of these new "national rate" numbers. Even if they are not behind the scheme they must be very pleased to see a renewed increase in charged minutes.
There has been an explosion in use of 0870 numbers by large and small companies.
A few years ago it was rare having to call a 0870/0871 number and it was possible to choose another service provider with a local number.
Nowadays it seems as if every service company is using 0870/0871 number to boost their bottom line. This is very frustrating especially if there are 40 minutes waiting times before getting through to a customer service representative.
By the way, if it is profitable for a company to keep you waiting on the line you should start worrying about their true intent. Customer service or profit?
Some companies have gone too far. They rely on incoming phone calls to make a sale (hotels, mortgage companies) but offer only 0870/0871 numbers.
This means it now costs to make a reservation or to inquire about the costs of a product (shame on you K-West).
There is a growing uproar against these phone numbers with hidden charges.
Phone regulator Ofcom has announced that from next year firms will be banned from sharing in the profits of 0870 and 0871 numbers. New numbers will be introduced, this time starting with 030.
These new numbers should not cost more than traditional regional numbers (e.g. 01/02) and should be included in discounted calling plans and inclusive minutes.
While we wait for the 030 numbers you may want to check out the Say no to 0870 web site for alternative contact details.
May 03, 2007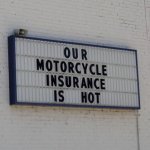 It is a real shame but it seems as if you have watch closely all the companies you are paying for a service.
Forget to watch them and "mistakes" will be made which will always result in you paying them more.
The latest company to act questionably is the motorcycle and scooter insurance broker Bennetts.
Their business model is to get a quote from several different insurance providers and let you select the best value one.
My first year with Bennetts scooter insurance costed me £260 (third party, fire and theft). The second year costed me £250.
Towards the end of my second year I realised that having 1 year of no claims discount should have resulted in a better quote than I had been given.
I inquired Bennetts about this and was assured that my third year with them would be "considerably cheaper".
The renewal quote arrived a few days later in the post and had the figure of £176. This sounded like a really good value.
The letter further stated that I did not have to do anything because the policy would be automatically renewed at the end of the term. At that point my credit card would be charged the quoted fee of £178.
One day before the renewal a Bennetts sales agent called me to inform me that my policy was due for renewal and that the best quote she was able to find was £220.
I was a bit puzzled by this and informed her that a lower quote was already sitting at the kitchen table back home and I did not wish for her to do anything at this point. I would be calling them later that day with the previous reference number in hand.
When I called Bennetts later that evening I was told that the higher fee I had been quoted earlier that day was currently in my account and had I not have called, I would have been debited this figure.
At this point I was about to explode with how unjust this was when the sales agent quickly told me that he has yet another quote and that it is £150. After going through the terms and conditions of this policy it turned out that it was the best one so far.
The Bennetts sales agent was not able to explain what had happened but insisted that if I "finalise it with him there and then" he could guarantee this figure.
One has to ask what motivation Bennetts has to actually give you the lowest quote they find. If they operate on a percentage based commission it would be in their interest to sell a more expensive cover.
Oh, one more thing.
Bennetts adds an optional fixed "legal protection" fee to all policies. You can request to remove this £25 fee to further reduce your annual insurance cost if you do not require it.
Cheap scooter insurance alternatives:
Lexham Bike insurance
Carole Nash
Bikesure

Photo credit: Signalstation