« October 2007 | Main | December 2007 »
November 20, 2007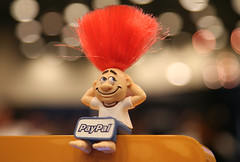 Once you hand money over to Paypal you have very little control over it. This also applies if you let PayPal accept money on your behalf.
Their terms and conditions more or less make you wave your credit card protections and consumer rights.
I have made over 40 paypal transactions over the last 6 years. I have been reading various paypal horror stories but I always thought it wouldn't happen to me (don't we all).
Well of course it did and it is just a matter of time until you lose money as well if you are using PayPal for any transactions; especially related to eBay auctions.
In my particular case I had paid for an item that I had won in an eBay auction and PayPal charged my credit card instantly.
The seller had some complications getting the money so he informed me that he was not interested any more and that I should be getting my money back in 30 days.
This leaves me with a lot of money out of my pocket and a product I will never receive.
The only condolence PayPal was able to give me was to assure me that the money would be back in 30 days... but that's no condolence to me, that is theft.
My story is just a drop in the ocean of other horror stories related to PayPal.
Credit to my credit card company as they treated me like a customer and put a little pressure on PayPal to look at my case a second time but in the end nothing could be done.
From the conversations with the credit card company representatives, it seemed as if they deal with many, many PayPal disputes and the score so far is individuals 0, PayPal a lot.
If you want to talk to a human being at PayPal UK then avoid the expensive 08707307191 premium number and instead use 02086053000.
Press 1 for PayPal, skip the request for your registered phone number, press 5, press 2 and tell the customer service representative that David says hi.
At least there are some alternatives to PayPal and you should consider them while you still can:
Google checkout
Authorize.net
http://www.merchantinc.com
http://www.nochex.com
Photo credit: Scott Beale / Laughing Squid