« December 2006 | Main | February 2007 »
January 15, 2007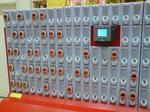 I have used so called self service check outs previously in the UK with very mixed results.
While visiting my parents in Sweden last weekend I entered their local grocery store and was faced with this wall of barcode scanners. My parents quickly updated me on how the system works.
You register for the service and are given a swipe card, similar to a store card.
When you swipe the card, one of the many barcode scanners is allocated to you and lights up so that you can find it easily. The scanner greets you with your name (and wishes you to have a nice day).
You then commence to do your shopping and every item you wish to purchase is first scanned and then put into your shopping bag. You can constantly see a list of items that you have scanned, their costs and the total.
Should you at any time change your mind about a product, you can simply delete it from the scanner and return the product.
At the check-out a member of staff asks you whether there were any problems with scanning of any items. If the answer is no, you then pay for the items registered in the scanner and walk out with your shopping.
Apparently there was an introductory period where the staff would choose customers on random and thoroughly check that their purchases were properly registered.
The advantages of this system were several. You could constantly see the total of your shopping, you did not have to wait in line to have your shopping scanned and your shopping was placed directly in your shopping bags saving you additional time.
The obvious issue would be with customers that do not scan their purchases but the occasional missed bar of chocolate is a bonus to the customer in my opinion :-)
Now imagine if you could upload your shopping list to the scanner and tick the items off one by one!