« November 2006 | Main | January 2007 »
December 31, 2006
Following last year's cities, here's my 2006 in cities:
Sao Paulo, Brasil*
London, UK*
Turin, Italy
Milano, Italy
Le Touessrok, Mauritius
Prague*, Czech Republic
Edingburgh, Scotland
Miami, USA
Nassau, Bahamas
Helsingborg, Sweden*
Copenhagen, Denmark*
Campinas, Brasil*
One or more nights spent in each place. Those cities marked with an * were visited multiple times on non-consecutive days.
Click on pins to view photos from the location!
[via
kottke
]
December 13, 2006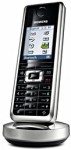 The Gigaset SL565 is the latest cordless phone from Siemens. It features a colour display, an answering system, bluetooth communication and much more in a sleek design. How does it perform though?
I upgraded to the SL565 from our previous SL555 that had been molested by the dogs. The only difference I was able to see between this SL565 and the previous SL555 was the addition of Bluetooth.
Let me quickly explain these similar model numbers to avoid any confusion.
The SL550 and SL560 are the two respective base stations with a handset. No answering machine on those base stations. The SL555 and SL565 are same as above but with added answering machines.
The SL55 and SL56 are just the handsets for the above base stations. I am happily using the old (damaged) SL55 handset with the new SL565 base station.
The handset sits nicely in the hand and feels comfortable due to it's glossy finish. The colour display is very clear and readable due to it's high contrast, 65000 colours and a resolution of 128 x 160 pixels.
With a growing list of contacts and multiple entries per contact I was looking for a phone with excellent phone book features and synchronization options with a PC.
The SL565 supports synchronisation with a computer running for example Outlook.
There was however no data cable included in the SL565 box and had to be purchased separately. I found the compatible DCA-510 on eBay and it came with required drivers and software (Mobile Phone Manager - MPM).
It was fairly straight forward to set up the connection between the phone and our PC but during the transfer of images, the connection kept failing intermittently. This was very frustrating and resulted in much more time spent than should have been necessary.
I remember experiencing similar issue with the previous SL555 even though a serial cable and a different PC was used there. Could this be a persistent problem with the SL55 and SL56 handsets?
Synchronisation and sending of images over Bluetooth was a much better and reliable experience so I recommend you to use that before opting for the optional DCA-510 USB data cable.
Images transferred to the phone have to be bitmaps (BMP) and can be used as wallpaper backgrounds or caller images.
The SL565 promises easy usage of Bluetooth headset. I tried it with two headsets that I own, the SonyEricsson HBH-660 and the Motorola HT820, but both failed.
I was able to pair the devices but the phone refused to connect when the call button was pushed on the Bluetooth headset. Neither did the phone direct any incoming calls to a paired headset.
So at the moment I am not able to confirm whether the SL565 actually supports the bluetooth headset profile. Maybe a specific Bluetooth headset is required but that defeats the purpose of universal Bluetooth communication.
Coupled with the Siemens M34 USB adapter, this phone can be connected to a PC and be used as a Skype phone. This allows for cheap or free international calls with Voip.
When the M34 is connected to your PC you can call it from your handset by an internal call. Your Skype buddy list is then displayed on the handset and with a single click you get connected.
All in all the Siemens Gigaset SL565 is a great looking phone that fulfills all our needs. It is a bit buggy however and does not live up to it's high specification and price.